SOUTH SAN FRANCISCO, Calif. – October 30, 2019 – Twist Bioscience Corporation (NASDAQ:TWST), a company enabling customers to succeed through its offering of high-quality synthetic DNA using its silicon platform, and MGI International Sales Co., Limited (MGI), a subsidiary of global genomics leader BGI Group, today announced a co-marketing agreement for Twist Bioscience's target enrichment product line in Europe and Asia Pacific.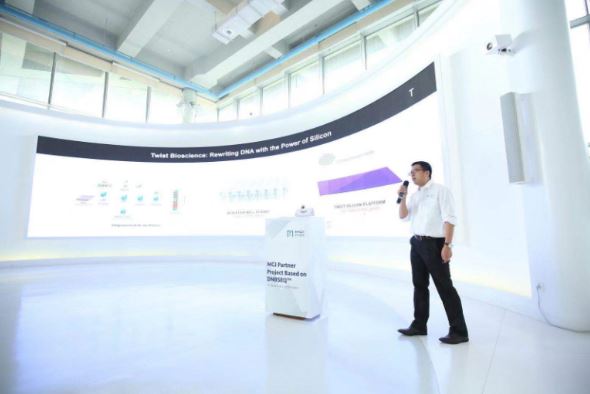 Under the terms of the non-exclusive agreement, the two companies are making Twist catalog and custom products available on the MGI platform. MGI and Twist will market and promote Twist Bioscience's target enrichment product line including the Twist Human Core Exome Kit, Twist Custom Panels, Twist Mouse Exome, Twist RefSeq, Twist Universal Blockers and Twist Fast Hybridization and Wash Kit that is specifically formatted to work with MGI's DNBSEQ? sequencers, with the appropriate MGI-compatible products.
"This agreement brings together our best-in-class target enrichment products and MGI's high quality cost effective PCR-free sequencing solution, creating a combined platform to embrace the rapidly expanding markets in Asia Pacific and Europe," said Emily M. Leproust, Ph.D., CEO and co-founder of Twist Bioscience. "It supports the expansion of our geographic footprint and brings premium target enrichment products to MGI's customer base, allowing them to experience exceptional enrichment uniformity, custom panel enablement and optimal performance."
"This important collaboration leverages the strengths of both companies and provides an opportunity to extend our capabilities and advanced sequencing technology for our customers working in cancer, neurology, autoimmune disease and other genomic applications,"saidDuncan Yu, president of MGI. "Demand is growing for our DNBSEQ platform with its high accuracy, affordability and applications within the marketplace. We look forward to a continued expansion of our offerings with leading products like the Twist target enrichment solution specifically formatted for our platform.