MGISP-100
MGISP-100 Automated Sample Preparation System is an automated workstation specialized for high-throughput sequencing library preparation. Integrated 8 channel pipettes, MGISP-100 processes samples in batches, eliminates operators from repetitive processing procedures, increases the stability of library preparation, reduces the total costs, and significantly enhances the overall efficiency in the laboratory.
Request Quote
Features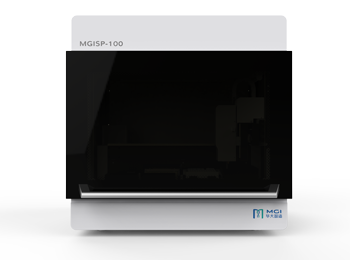 | | |
| --- | --- |
| Comprehensive functions: integrated the necessary function modules including PCR machine, magnetic rack, temp. modules, and so on. | Economic and efficient: truly unmanned system; process samples in batches; greatly reduce manpower input. |
| Comprehensive protection: integrated uv lamp and laminar flow hood, comprehensive pollution prevention design. | Open platform: support customized development according to different needs; strong extensibility. |
Related Products
Sequencing
Remark: DNBSEQ-G400 and DNBSEQ-G50 remain their original product names as MGISEQ-2000 and MGISEQ-200 respectively in China and some other overseas countries.


Performance Parameter
MGISP-100
Throughput
Standard:16 samples/run
Pipette Type
Fixed 8 channel
Pipette Range

2 μL~200 μL

Pipette CV


2 μL <5% 200 μL <1%

Pipette Accuracy

2 μL <±10% 200 μL <±1%

PCR Temp. Range


4~99℃

PCR Temp. Accuracy

±0.3℃ at 55℃

PCR Temp. Uniformity

±0.2℃ at 72℃

Temperature Control Module Temp. Range

4~90℃

Temperature Control Module Temp. Accuracy





±1℃ at 55℃

Temperature Control Module Temp. Uniformity

±1℃ at 72℃
Robot Arm Positioning Accuracy

±0.1mm

HEPA System

ISO5

UV Lamp

Radiation dose higher than 100 000μW.s/cm2
System Parameter
Power & Dimensions & Net Weight

Power Type: 100V~240V,50/60Hz

Rated Power: 1600VA

Dimensions: length: 780mm; width: 725mm; height: 777mm

Net Weight: 130kg

Operating Environment Requirements**

Temperature: 19℃~25℃

Relative Humidity:20%RH~80%RH,non-condensing

Atmospheric Pressure:80kPa~106kPa

Waterproof Rating:IPX0