MGIFLP-L50
MGIFLP-L50(1) is a modular sequencing workstation independently developed by MGI. MGIFLP-L50 focuses on creating a new sequencing model, and integrates the whole sequencing workflow into one machine, creating a fully automated solution from sample to report with just one click.
Request Quote
Features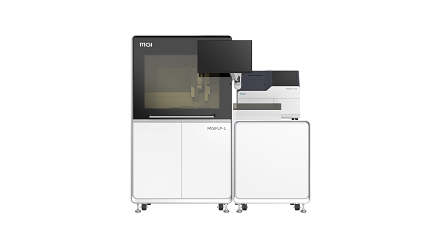 | | |
| --- | --- |
| 3 Labs →1 Lab: MGIFLP-L50 minimizes the footprint of the instrument, consolidating thetraditional 3 laboratory spaces into amodular sequencing workstationoccupying less than 2 m2 | Intelligent Experiment: Sample Barcode Scanning; Life-cycle Sample Tracing; Life-cycle Result Tracing; Intelligent Device Monitoring; Experimental Process Monitoring |
| Pre-defined Workflow: MGIFLP-L50 has the pre-definedworkflow, providing new-standardoperation-simplicity to conductsequencing experiments | Disinfection System: HEPA system: 99.995% at 0.3 μm; UV system: Higher than 100,000 uW.s/cm2 |
Performance Parameter
MGIFLP-L50
Dimensions

1765 mm (L) x 850 mm (W) x 1860 mm (H)

Throughput

4 samples ~32 samples/run
Sample Type

Plasma, full-blood, cerebrospinal fluid, swab preservation fluid, saliva, nucleic acid, etc.

Read Length

SE50, SE100, PE50, PE100, PE150


HEPA System

99.995% at 0.3 μm

UV System

Higher than 100,000 uW.s/cm2
System Parameter
Power Requirements

Voltage: 200 V~240 V, 50/60 Hz

Rated Power Consumption: 3000 VA

Operating Environment

Temperature & Humidity: 19 ℃~25 ℃, 20% RH~70% RH, No condensation

Air Pressure: 70 kPa~106 kPa

Remrk: Indoor use only.

Related Products
Sequencing
DNBSEQ-G50 (SE50, SE100, PE100, PE150)

Remrk:

DNBSEQ-G50 remains its original product name as MGISEQ-200 respectively in China and some other overseas countries.

Bioinformation analysis
Remrk: Can be connected to third-party bioinformatics analysis software.

(1) Unless otherwise informed, StandardMPS and CoolMPS sequencing reagents, and sequencers for use with such reagents are not available in France, Germany, Spain, UK, Sweden, Italy, Czech Republic, Switzerland and Hong Kong (CoolMPS is available in Hong Kong).