MGISP-960
MGISP-960 High-throughput Automated Sample Preparation System is a flexible, fully automated workstation with 96-channel pipette. MGISP-960 has validated lots of library kits including WES/WGS/RNA and so on. MGISP-960, with fully automatic operation design, can realize unmanned process and be customized according to customer needs. It is an efficient and widely-used automated sample preparation system.
Request Quote
Features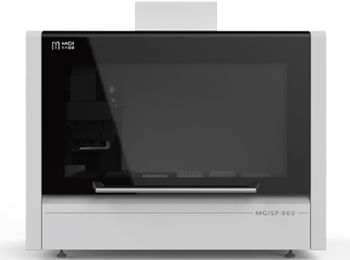 | | |
| --- | --- |
| Comprehensive functions: integrated the necessary function modules including PCRmachine, magnetic rack, temp. modules, etc | Economic and efficient: truly unmanned system, processes samples in batches, greatly reducing manpower input |
| Comprehensive protection: integrated uv lamp and laminar flow hood, comprehensive pollution prevention design | Open platform: support customized development according to different needs |
Performance Parameter
MGISP-960
Throughput

Standard: 96 samples/run

Pipette Type


Fixed 96 channel

Pipette Range
1 μL~200 μL
Pipette Accuracy

2 μL: <±10% 200 μL: <±1%

Pipette CV


2 μL: <5% 200 μL: <1%

PCR Range

4℃~99℃

PCR Accuracy

±0.3℃ at 55℃

PCR Uniformity

±0.2℃ at 72℃
Temperature Control Module Range
4℃~90℃
Temperature Control Module Accuracy
±1℃ at 55℃

Temperature Control Module uniformity
±1℃ at 72℃


Robot Arm Positioning Accuracy

±0.1 mm

Laminar Flow Hood

ISO5

UV Lamp

Radiation dose higher than 100,000 μW.s/cm2
System Parameter
Working Environment

Temperature: 19℃~25℃

Humidity: 20% RH~80% RH,non-condensing

Atmospheric pressure: 80 kPa~106 kPa

Power & Dimensions & Weight

Voltage: 200 V~240 V, 50/60 Hz

Rated Power: the standard configuration - less than 2,000 VA

Dimensions(L×W×H): 1240 mm×740 mm×1110 mm

Weight: 250 kg
Related Products
Sequencing
Remark: DNBSEQ-G400 and DNBSEQ-G50 remain their original product names as MGISEQ-2000 and MGISEQ-200 respectively in China and some other overseas countries.

Related Documents
Materials

Video













Training Files