SHENZHEN, China, Mar 28, 2021--Basecare (stock code:2170HK) and MGI formed a strategic cooperation on sequencer research and development. Dr. Liang Bo, Chairman of Basecare, and Mr. Kong Lingyin, Director of R&D, and Mr. Yu Dejian, President of MGI, attended the signing ceremony.

The two parties are committed to jointly developing packages for the next-generation automated experimental platform for assisted reproduction based on MGI's DNBSEQ sequencing platform.

Basecare will, based on years of experience in embryo single-cell biopsy technology, contribute to the development of pre-implantation sequencing library construction kits, continuous iterative optimization of automated processes, and data analysis algorithms for large-scale clinical trials to create a comprehensive package for embryo single-cell from detection to storage.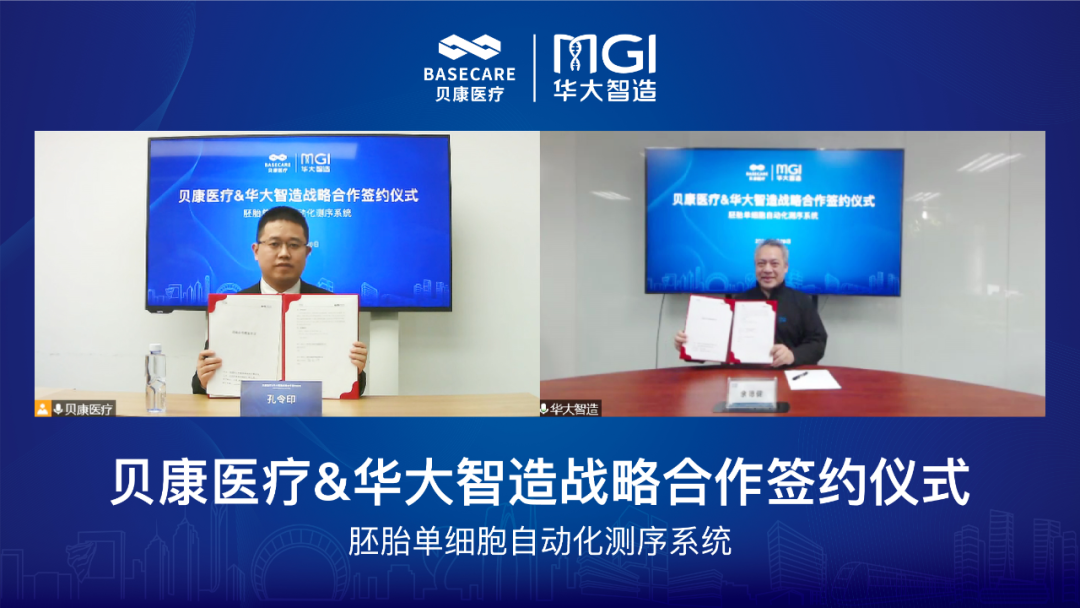 At present, the upstream market of China's gene sequencing industry continues to maintain rapid growth. Since 2015, benefiting from the rapid development of the domestic gene sequencing industry in the middle and downstream, the annual compound growth rate of the domestic gene sequencer market exceeds 20%.
In assisted reproduction, as of December 31, 2019, the number of domestic assisted centers has reached 517. Compared with the current domestic population of over 50 million infertility cases, the market is still in a state of short supply.


With carrier screening of genetic diseases and chromosomal testing in a general population, genetic disease screening has also become a routine test for health pregnancy preparation, which drive the development of the next generation automated experimental platform of assisted reproduction.
According to data statistics, the current demand for the sequencer in assisted reproductive centers (excluding obstetrics and pediatrics) in China has exceeded RMB 8 billion and combined with the future demand for the intelligent upgrade of the sequencing system, the market demand for sequencer in the reproductive health market has exceeded RMB 16 billion.
Genetic testing technology has developed relatively mature products and services in these fields, ranging from pre-pregnancy carrier screening, prenatal genetic testing, companion diagnosis, auxiliary diagnosis of genetic diseases to prognosis monitoring, etc., which have basically entered major medical institutions and cooperative research and development with pharmaceutical enterprises. It can be said that the door to gene-oriented health care has been opened, and the era of human genome is also coming.
As one of the few companies in the world that have mastered the core technologies of sequencers and automated equipment, MGI has launched a series of products with obvious advantages in terms of technology, product diversity and application cost. MGI will continue to enable the development of the industry and contribute to the Healthcare for all.
This strategic cooperation with Basecare and MGI will further enhance the automated testing capability and the application of high-throughput sequencing technology in the assisted reproductive testing to contribute to national eugenics, and continuously promote the development of China's assisted reproduction industry.
About Basecare
Basecare is a leading innovation platform for assisted reproductive gene testing solutions in China and committed to the research and development and clinical application of high-throughput sequencing technology in reproductive health.
Basecare aims to help 50 million infertile patients in China to have children, ensure patients carrying genetic disease genes have healthier children, and eliminate problems of fertility in China through gene technology innovation.
MGI (MGI Tech Co., Ltd.), a member of BGI Group, is committed to enabling effective and affordable healthcare packages for all. Based on its proprietary technology, MGI produces sequencing devices, equipment, consumables and reagents to support life science research, medicine and healthcare. MGI's multi-omics platforms include reagents, medical imaging, laboratory automation and genetic sequencing. Providing real-time, comprehensive, life-long packages, MGI's mission is to develop and promote advanced life science tools for future healthcare. For more information please visit MGI website or connect us on Twitter or Linkedin.