Guiyang, China, May 26, 2021 -- The China International Big Data Industry Expo 2021 (Big Data Expo 2021) is taking place May 26-28 in Guiyang International Convention & Exhibition Center.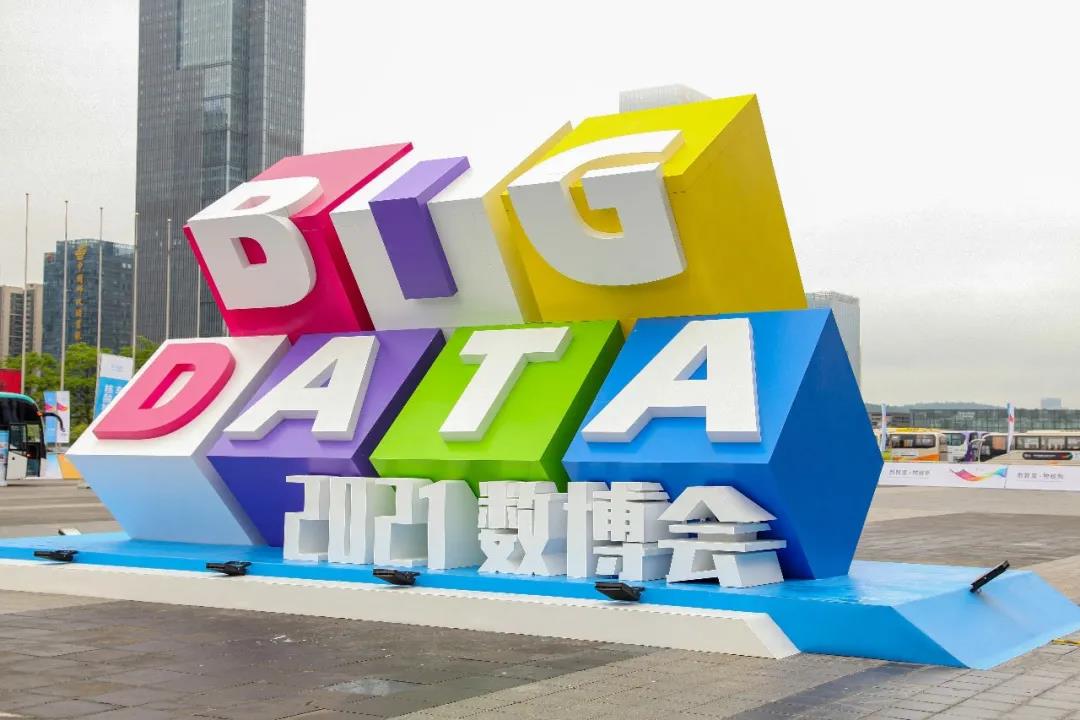 MGI presents a full range of innovative products and platforms, including laboratory information system, remote robotic ultrasound system, gene sequencing platform and one-stop nucleic acid testing platform.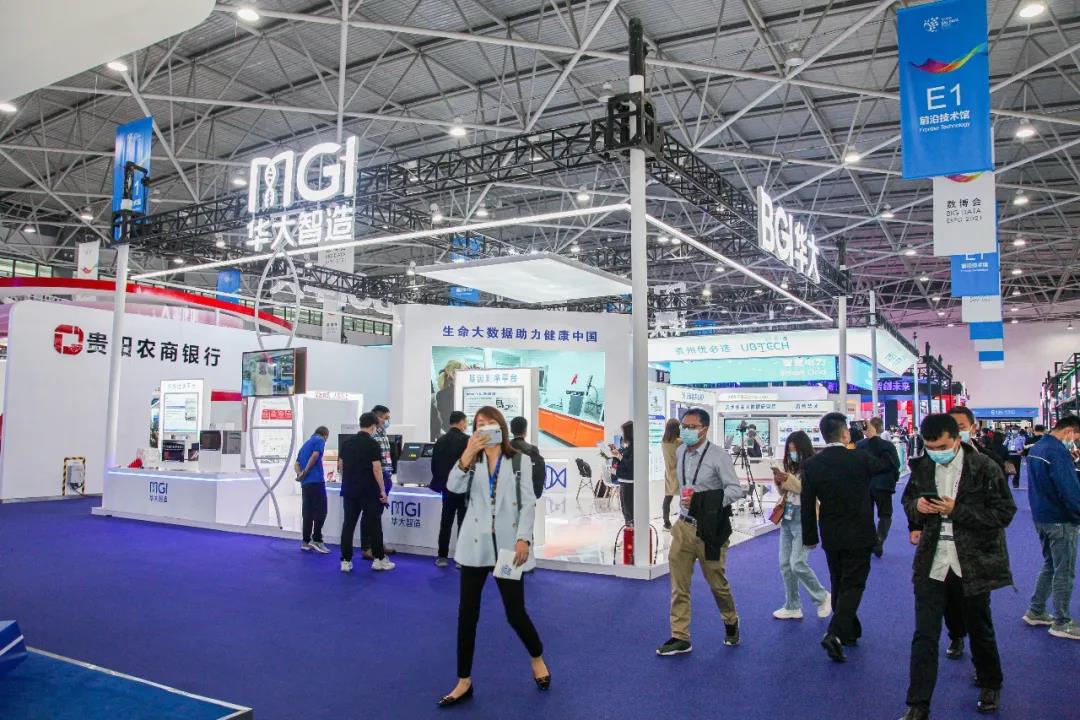 MGI's big data management platforms contribute to the construction of public health protection system.
MGI's proprietary BIT products integrate Biological Technology and Information Technology to realize full-cycle data management from bio-sample management, laboratory production, bioinformatics analysis to data governance.
MGI showcased a one-stop nucleic acid testing platform and gene sequencing platform, which can be connected with ZLIMS system to provide automatic management of the whole process from barcode identification, sample dispatch, nucleic acid extraction, and fluorescence quantitative PCR detection to report distribution. MGI's platforms can assist health institutions with comprehensive virus identification and classification, complete whole genome sequencing of virus, and monitor the working status of lab instruments.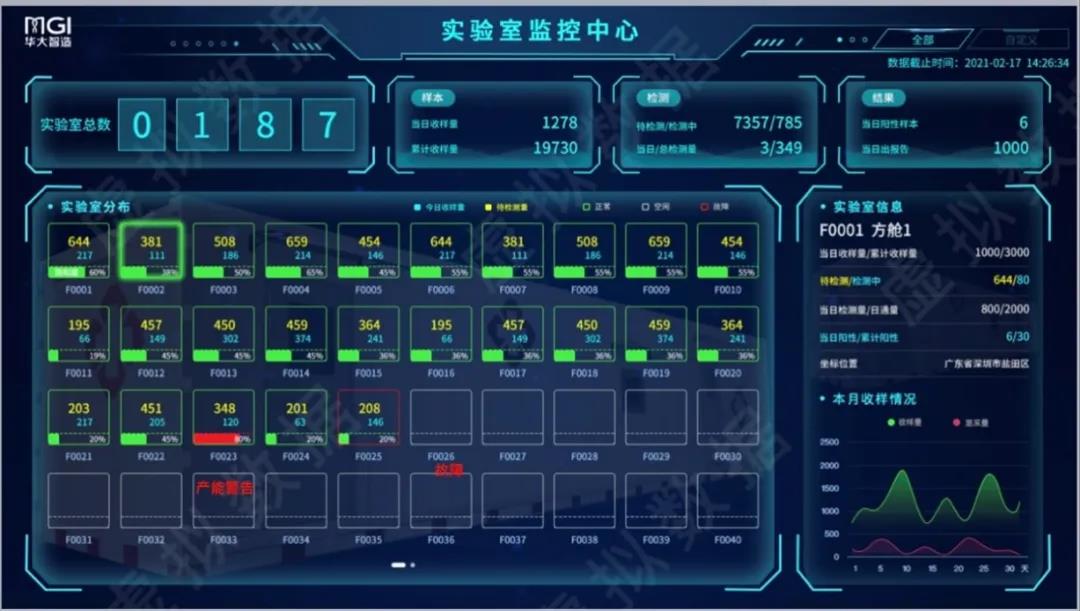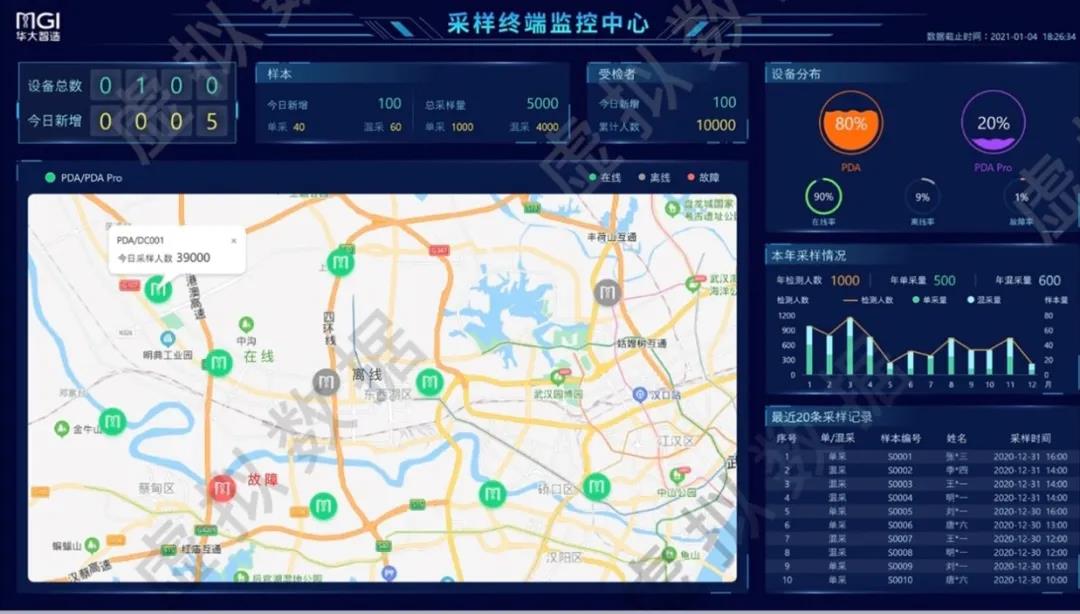 MGI ZLIMS Intelligent Information Management System (virtual data)
During the COVID-19 outbreak, large-scale nucleic acid testing plays a crucial role in epidemic prevention and control. MGI's one-stop nucleic acid testing platform is equipped with fully automated MGISTP-7000 sample transfer processing system, MGISP-960 high-throughput automated sample preparation system and ZLIMS intelligent laboratory management system. It can realize fully automated sample barcode scanning, information identification and sample dispatching, nucleic acid extraction and real-time monitoring and management of the whole testing process. It also helps to decrease tedious sample pre-analytical steps to reduce the workload of lab technicians and improve the large-scale detection capacity.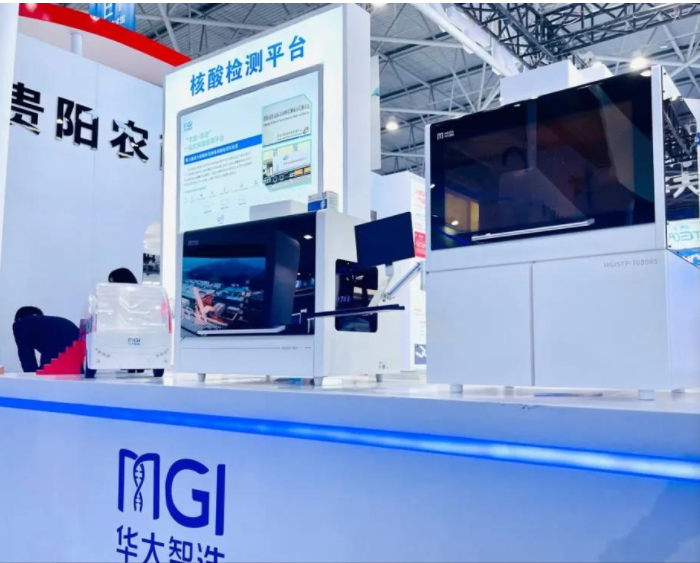 MGI's One-stop Nucleic Acid Testing Platform
MGI's proprietary gene sequencing platform can help related authorities to obtain viral genome sequence information to provide strong data support for follow-up virus tracing, vaccine R&D and epidemic prevention and control.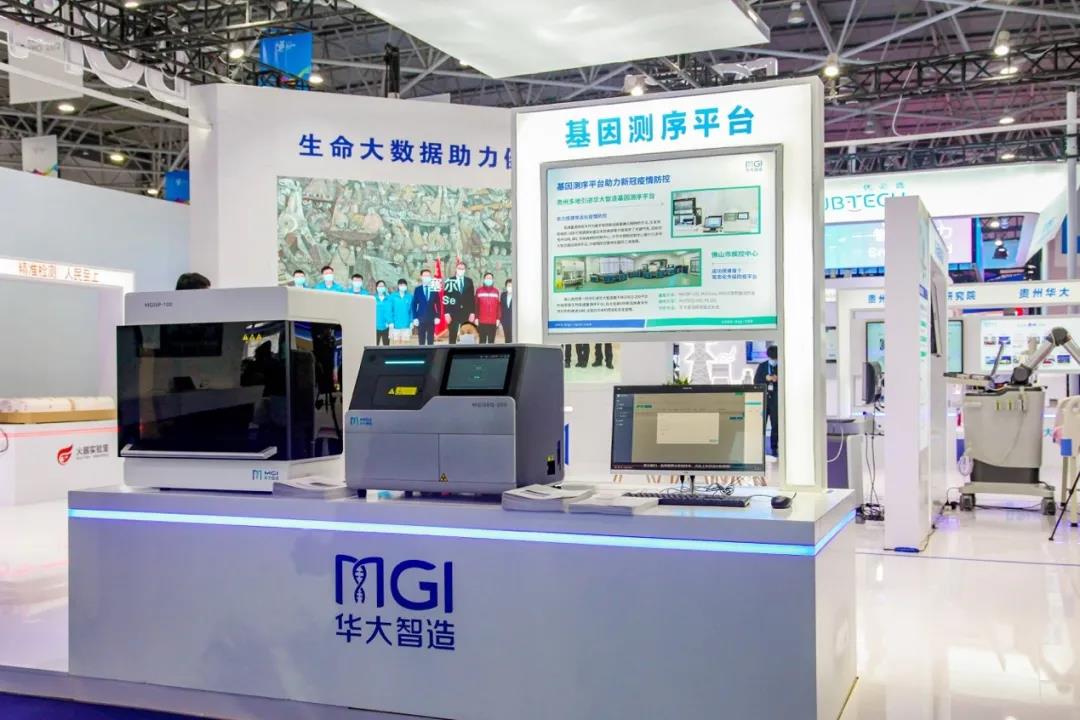 MGI's Gene Sequencing Platform
In early February, MGI's BIT products were applied into the "Shanxi Network Laboratory Information Management System" program to help build a health protection system for Shanxi Province of China.
In order to respond to the COVID-19 outbreak in a more timely manner, MGI integrated the one-stop nucleic acid testing platform, gene sequencing platform and BIT products into a mobile vehicle. The vehicle can be quickly deployed to places like customs, seaports and CDCs to accommodate different testing requirements to respond to public health emergencies. The vehicle can also contribute to the virus identification and classification to monitor the viral variations.
MGI's 5G-powered Robotic Ultrasound Vehicle makes medical services within reach.
MGI also demonstrated another star product, 5G-powered Robotic Ultrasound Vehicle. The Robotic Ultrasound Vehicle enables a medical doctor to conduct ultrasound diagnosis from the hospital for the patients that may be thousands of miles away. Its simulation-based design makes patient-doctor real-time communication possible through the interactive screens over 5G network. Before the Big Data Expo, MGI 5G-powered Robotic Ultrasound Vehicle spanned 1633 kilometers, from Shanghai to Xujiaba Town, Sinan County, Tongren City, Guizhou Province, to bring high-quality volunteer medical services to residents in Xujiaba Town. As part of the "Early Screening, Early Diagnosis and Early Treatment"program in Anji, Zhejiang Province, MGI's Robotic Ultrasound Vehicle supported Shanghai No.10 People's Hospital in the remote breast cancer diagnosis service for patients from remote areas.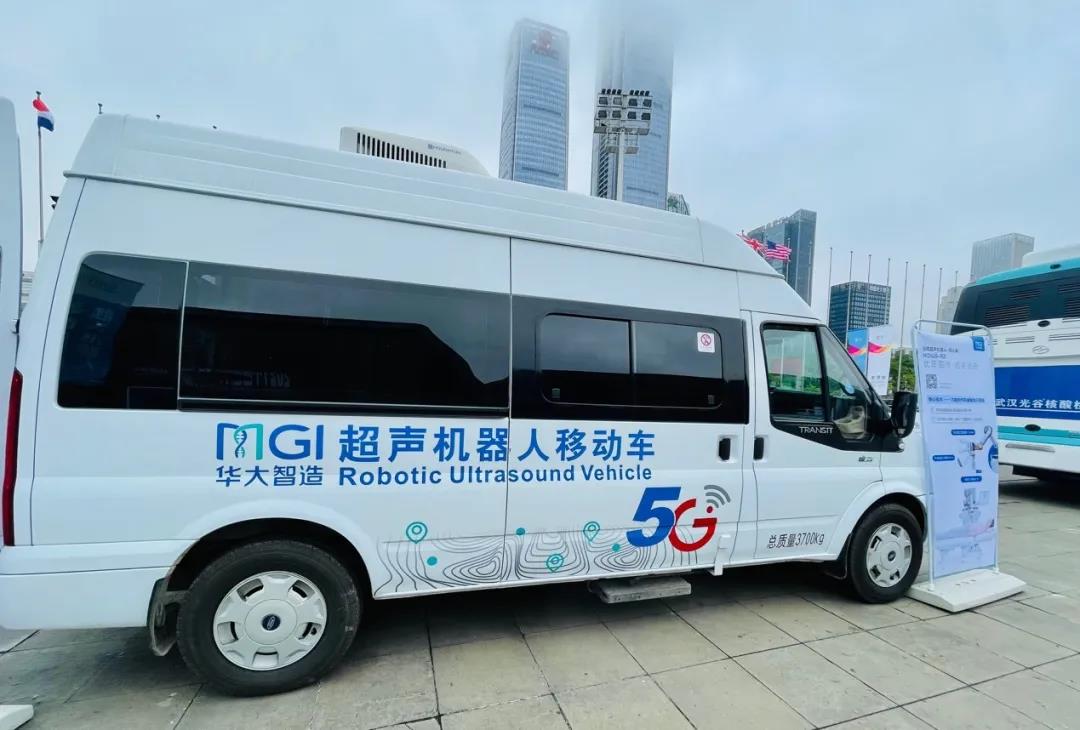 MGI's 5G-powered Robotic Ultrasound Vehicle
MGI remote robotic ultrasound system, MGIUS-R3, combines robotic technology, remote real-time control system and high-resolution ultrasound imaging. Empowered by MGIUS-R3, the flexibility, mobility and easy-to-operation features of the vehicle makes the real-time ultrasound diagnostics accessible to more people in need. MGIUS-R3 has obtained the NMPA qualification by China and European CE certification so far, and it will further improve MGI's product portfolio and provide more high-quality services to patients, especially for those areas with scarce medical resources.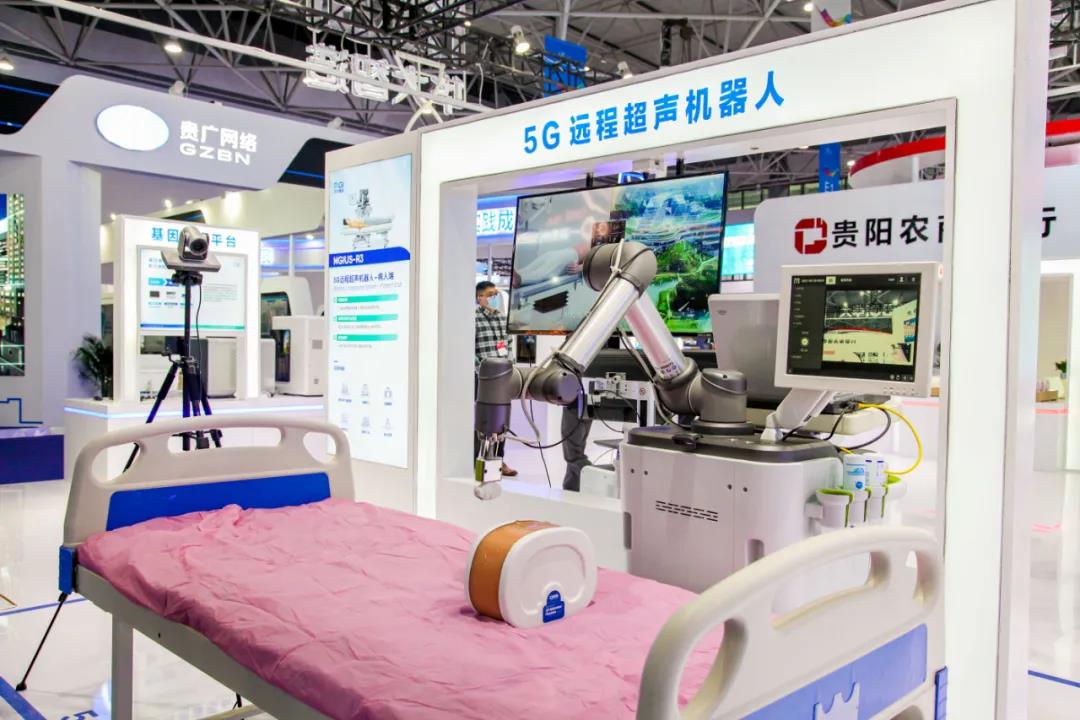 MGIUS-R3
During the COVID-19 pandemic, MGIUS-R3 was delivered to frontline hospitals thousands of miles away, helping doctors to conduct remote diagnosis, effectively reduce the risk of transmission of COVID-19 to medical personnel and save the lives of patients. Since February 16, 2020, MGIUS-R3 has supported Wuhan's mobile hospitals -- Leishenshan Hospital (the hospital for critical patients infected by COVID-19) and Zhongnan Hospital of Wuhan University. In addition, the remote ultrasonic robot can also be applied to multiple smart medical scenarios, such as emergency rescue and health management, to make high-quality medical resources more accessible and contribute to the digital transformation in healthcare.
Based on its powerful R&D ability of mobile technology platforms, MGI will further expand the technology to applications in life sciences to benefit the health of all people.
*All sequencers and sequencing reagents are not available in Germany, the US, Spain, the UK, HK SAR, Sweden and Belgium.