Recently, MGI made the world's first one-stop sequencing workstation – MGIFLP. MGI conducted joint testing at Zhujiang Hospital of Guangzhou Southern Medical University to help patients with suspected severe infections to provide accurate diagnosis through high-throughput sequencing pathogen screening and medication guidance.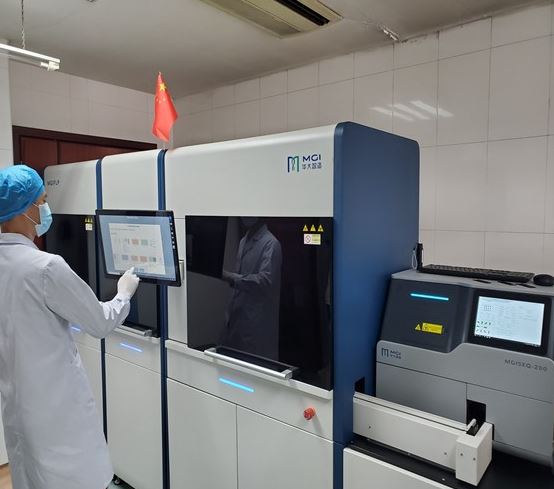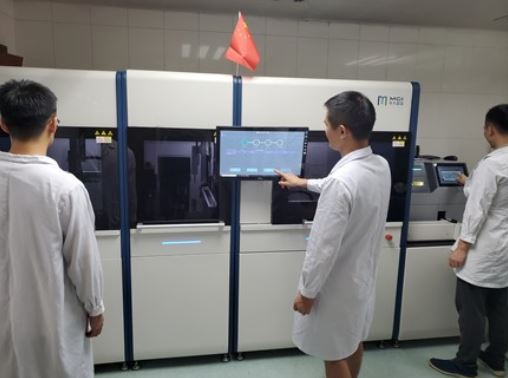 MGIFLP
Most of the clinical samples are based on whole blood samples. For a long time, clinical sequencing has faced several issues to be solved:
Complicated Procedure
For whole blood samples, clinical sequencing requires multiple steps such as centrifugation, plasma processing, sample preparation, and sequencing, which requires multiple operations.
Hard to operate
The steps of end repair, joint connection, purification, DNB preparation, etc. are complicated, and the requirements for personnel quality are high. Manual operation can also lead to unstable quality and low utilization rate.
Long reporting period
Under the traditional identification method, it takes at least 3 days from the time the sample is taken to the report. Even with a single step of automated equipment, it takes 2-3 days to fully utilize nighttime non-working hours, making it difficult to meet clinical needs.
Large footprint and anti-fouling
The traditional sequencing process requires multiple laboratories (or regions), and the area is large, and pollution prevention and control is difficult.
One-stop sequencing is the trend. However, most of the active platforms on the market still stay in the single-link automation or only the library automation level. From the whole process of sequencing, multiple interventions are required, and fragmentation time is high. The overall efficiency improvement is limited. Even the integrated sequencing system that has just appeared in the market recently, considering the integration of database construction and sequencing, which does not really start from the clinical to form an automated sequencing platform for clinical samples.
The one-stop sequencing workstation MGIFLP gives its own answers to these questions. It is a powerful tool for clinical researchers to truly "focus on customer " and achieve one-stop, efficient and flexible sequencing.
From sample to report, from one-stop sequencing to clinical application
Here is the video of MGIFLP
https://v.qq.com/x/page/a3023nmptip.html
As the world's first one-stop high-throughput genetic sequencer system, MGIFLP breaks through the state of automated library automation and sequencing separation, integrates whole blood processing and separation modules, and automatically supports microbial rapid detection through track automatic connection. Identification of drug resistance genes and virulence genes allow to be performed on the clinical side with unprecedented efficiency and convenience.
One-stop automatic process
Multi-module cascading realizes the whole process automation from sample insertion to report output. MGIFLP consists of four functional modules: blood centrifuge module, plasma separation module, sample preparation module and sequencing module. Modules can be freely combined according to the scene and can be processed. Blood, throat swab, alveolar lavage fluid, cerebrospinal fluid and other sample types are flexible adaptation to different applications such as NIPT, tumor and pathogen.
Easy operation
Single-button operation; standardized process, stable quality; no need for professionals, easy to get started; unattended, mobile phone real-time control of running status. MGIFLP fully integrates the whole process from sample processing to sequencing and analysis,single processing 16 samples, only 2 minutes of manual operation, one-stop sequencing from sample to report.
Super fast
From sample to report, the whole process of sequencing is completed in 24 hours.
Fully enclosed small footprint
Multi-module cascading, fully enclosed pollution prevention and control——the floor space is reduced to less than one tenth.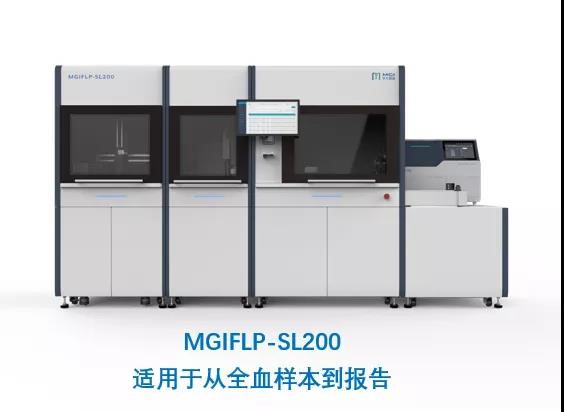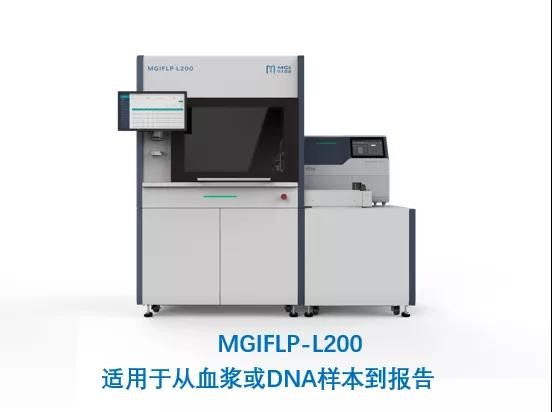 Joint test, excellent clinical results
Since its release in October 2017, MGI has carried out many adaptation applications based on MGIFLP, developed a fully-fitted plate kit, and performed stability verification to achieve good results. Based on these efforts, MGIFLP was able to push clinical.
The joint test of MGIFLP in Zhujiang Hospital is led by the Department of Laboratory Medicine of Zhujiang Hospital. It is mainly used in the Department of Critical Care Medicine, Department of Hematology and Organ Transplantation. It carries out high-throughput sequencing-based pathogen screening for critically ill patients with suspected infection.
The responsible person of the Department of Laboratory Medicine of Zhujiang Hospital said: "The MGIFLP sequencing workstation has a clear workflow and simple detection procedures, and can quickly obtain the infection pathogen sequencing results of the patient. It takes at least 72 hours to determine the infectious pathogen compared with the traditional culture method. In this test, MGIFLP detected Salmonella in 24 hours from a whole blood sample of 2 hyperthermia patients without diarrhea,which diagnosed and treated severe infections in an accurate method. It also has important clinical application value."
Open cooperation to build an application ecology
In 2019, the MGIFLP-100 developed by MGI has obtained the world's first clinical second-class medical device certificate. At present, MGIFLP's certification acquirement work is in progress. In the future, MGIFLP will develop more sequencing applications, and we sincerely welcome third parties of reagent manufacturers to develop kits based on the MGIFLP platform to jointly build a more complete clinical sequencing application ecosystem.
To get more product information
Please scan the QR code to write down your contact information.