BRISBANE, Australia, 7 Sep. 2021–MGI Tech Co., Ltd. (MGI), a world-leading life science innovator, announces the supply of DNBSEQ-G400 High-throughput Genetic Sequencer* to the South Australian Genomics Centre (SAGC) to support genomic researchers from home and abroad.
With strong focus on the South Australian science community, SAGC is committed to providing a broad range of sequencing services to support researchers, clinicians, industry partners, and external clients from all areas of genomics including animal, plant, environment, microbes and human. These services are supported by a dedicated Bioinformatics Platform that supports users with advanced and customised approaches for data analysis, integration and visualisation.
Based on MGI's proprietary DNBSEQTM technology, DNBSEQ-G400* is a versatile benchtop sequencer providing users with comprehensive, flexible, and efficient sequencing options. It can support a range of read lengths including SE50, SE100, SE400, PE100, PE150, and PE200. The stable and flexible sequencer can produce 55GB-1440GB data per run and is suitable for medium to large genome sequencing projects. Offering the users a simplified and streamlined sequencing experience, DNBSEQ-G400* sequencer supports a wide range of applications including scientific research, clinical research, disease prevention, environment studies and agriculture.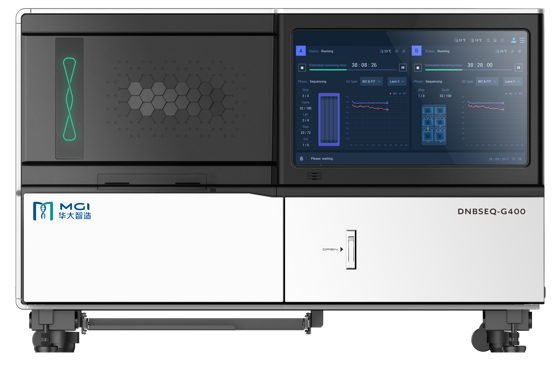 DNBSEQ-G400 High-throughput Genetic Sequencer*
DNBSEQTM technology uses rolling circle amplification to reduce the number of polymerase chain reaction (PCR) cycles in genetic sequencing. This, combined with the structure of the DNA nanoballs (DNBs) and unique Patterned Array technology, decreases duplicates, increases accuracy and reduces index hopping compared to other short-read sequencing technology. These advantages dramatically improve sequencing accuracy and have much lower duplication rates and reduced index hopping.
By incorporating DNBSEQ-G400* into their sequencing portfolio, SAGC is committed to driving genomic research in South Australia and other states. The innovative sequencer enables SAGC to provide economical and highly accurate sequencing for the customers. The sequencer is highly compatible with multiple third-party bioinformatic software.
SAGC's centre manager, Dr. Sen Wang said "Our strategic approach is to collaborate with innovative technologies to offer our clients a diverse portfolio of sequencing platforms. MGI sequencer gives us a competitive advantage of affordability and good quality to support our clients and their ground-breaking research."
The SAGC is a partnership between the South Australian Health and Medical Research Institute (SAHMRI), University of South Australia, Flinders University, The University of Adelaide, the Australian Genome Research Facility, and the Australian Wine Research Institute. The partnership is home to an extensive network of world-leading technology platforms, in-house support and expertise available to the local and national research community and collaborators.
"We are thrilled about the opportunity to support SAGC, a newly built facility committed to local research community." MGI Australia's Director Dr. Bicheng Yang said, "We believe scientific research requires innovative technology, diversity and creativity. We look forward to being part of new exciting applications and discoveries."
Working with local distributor Decode Science, MGI Australia has a strong local technical team of operations managers, field application scientists, and engineers offering on-the-ground support for local customers. The well-functioning local team has implemented over 70 innovative systems to date proudly supporting the customers in Australia and New Zealand.
About SAGC
The South Australian Genomics Centre (SAGC) was established in July 2020 as a State-wide genomics facility to support research in South Australia, as well as nationally and internationally. The SAGC is a partnership between the South Australian Health and Medical Research Institute (SAHMRI), University of South Australia, Flinders University, The University of Adelaide, the Australian Genome Research Facility (AGRF), and the Australian Wine Research Institute (AWRI). EMBL Australia group leader Professor David Lynn, who is also a Program Director at SAHMRI and Flinders University Professor, is the Scientific Director of this state-of-the-art centre for genomics in South Australia that he played a vital role in championing. The SAGC central hub is located in the iconic SAHMRI building in the heart of Adelaide's Biomed City and has additional nodes on the Waite Campus and at Flinders University.
Media Contact: SAHMRI Media and PR
Email: marketing@sahmri.com
About MGI
Headquartered in Shenzhen, MGI is committed to building core tools and technology to lead life science through intelligent innovation. Based on its proprietary technology, MGI focuses on Research & Development, production and sales of sequencing instruments, reagents, and related products to support life science research, agriculture, precision medicine and healthcare. MGI is a leading producer of clinical high-throughput gene sequencers, and its multi-omics platforms include genetic sequencing*, medical imaging, and laboratory automation. MGI's mission is to develop and promote advanced life science tools for future healthcare. For more information please visit MGI or connect with us on Twitter, Linkedin or Youtube.
MGI Media Contact: MGI Public Relations
Email: MGI_Branding@mgi-tech.com
*Unless otherwise informed, all sequencers and sequencing reagents are not available in Germany, USA, Spain, UK, Hong Kong, Sweden, and Belgium.