On July 29th, the South African Medical Research Council (SAMRC) launched the African Genomics Centre in Cape Town with the support of MGI, becoming the first high-throughput genome sequencing center in Africa. The MGI genetic sequencer MGISEQ-2000 has been installed in the laboratory and assembled and tested. It will provide solid instrument support for a state-of-the art research facility that will refine the science of genomics for personalized medicine to benefit Africa's diverse gene pool.
SAMRC Chairman and CEO Professor Glenda Gray said that the African Genomics Centre will enhance the ability to sequence, analyze and store human genomes, giving South Africa an opportunity to enter a new era of medical research. On the occasion of the 50th anniversary of SAMRC, the opening of the center signifies a new level of cutting-edge research.
The African Genomics Centre is an important part of the cooperation between China and South Africa in the field of health. The initiative grew out of a memorandum of understanding between SAMRC and MGI signed during the China-African Ministerial Medical and Health Cooperation Conference in 2017. In 2018, the two parties formally signed a cooperation agreement to provide equipment and technical support from MGI, and cooperate with SAMRC to build a high-throughput genome sequencing center.
In 2018, the first group of technicians from South Africa completed technical training at MGI
At present, about 320 square meters of laboratory has been completed, and the first set of MGI sequencers has been installed and tested. MGISEQ-2000 is a highly flexible model independently developed by MGI. Four SAMRC technicians have completed technical training at MGI headquarters, and MGI will also send technicians to South Africa for one-year on-site field support.
The opening ceremony in Cape Town on July 29 was attended by more than 60 people, including SAMRC Chairman and CEO Professor Gray, SAMRC Chairman of the Board and Professor Mike Sathekge, South Africa Department of Science and Innovation's Director of Bio Innovation Ben Durham, South African Health Minister Spokesperson Dr. Lwazi Manzi, Science and Technology Office Counsellor Hou Lihong of the Chinese Embassy in South Africa, and experts and scholars from relevant fields of South African universities and research institutes.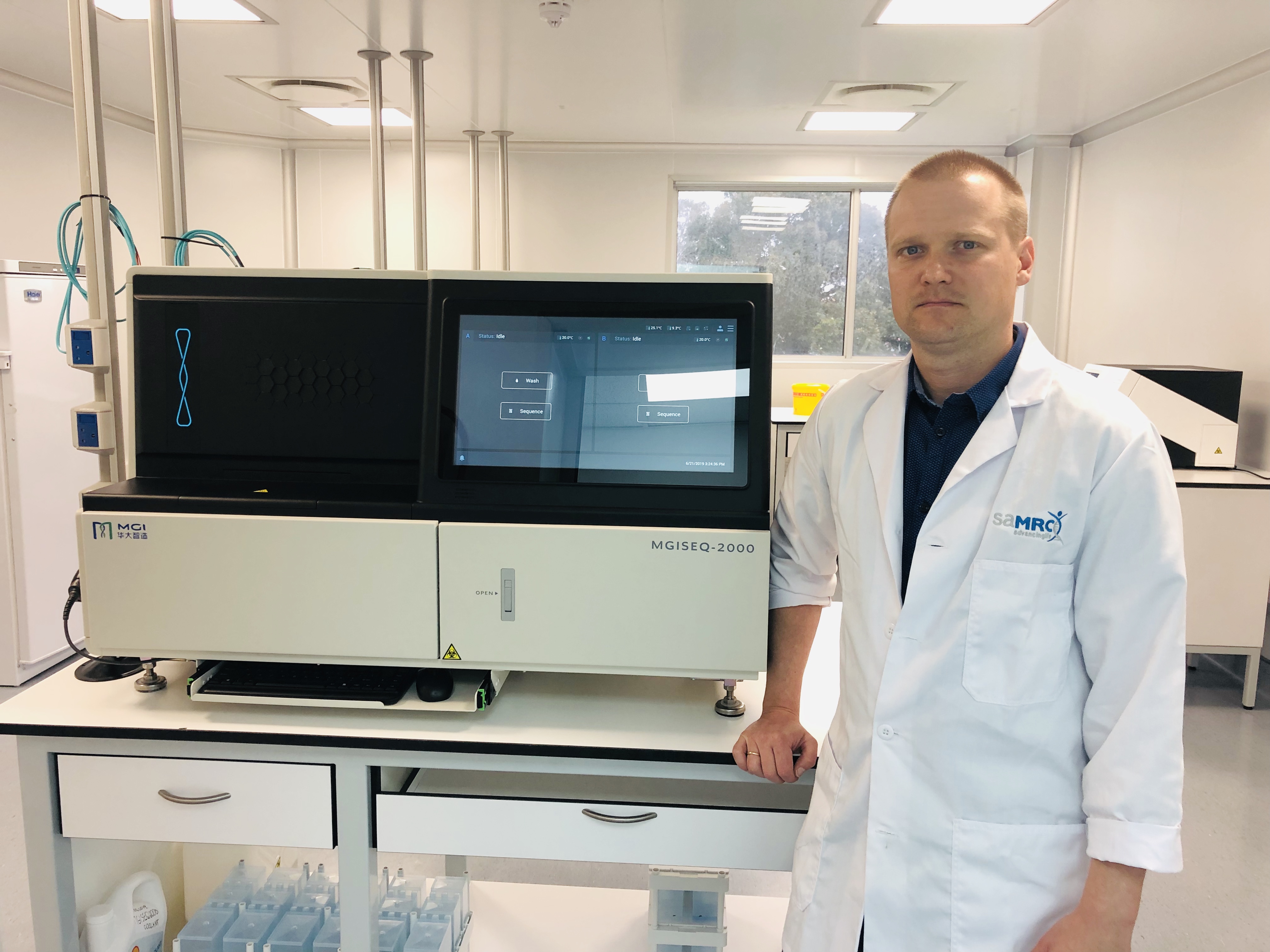 MGI's sequencer engineer Ingus Krauklis installing sequencer in South Africa
Ben Durham, director of Bio Innovation at the Department of Science and Innovation of South Africa, pointed out that the cooperation between MGI and SAMRC is an important development in the field of science and technology in South Africa and will have a profound impact on future disease detection and treatment.
Dr. Lwazi Manzi, on behalf of the Health Minister of South Africa Dr. Zwelini Mkhize, expressed his warm congratulations on the opening of the SAMRC Genomics Centre. Dr. Manzi said she hopes to use advanced genomics technology to improve medical accuracy and improve the service level for the health of South Africans.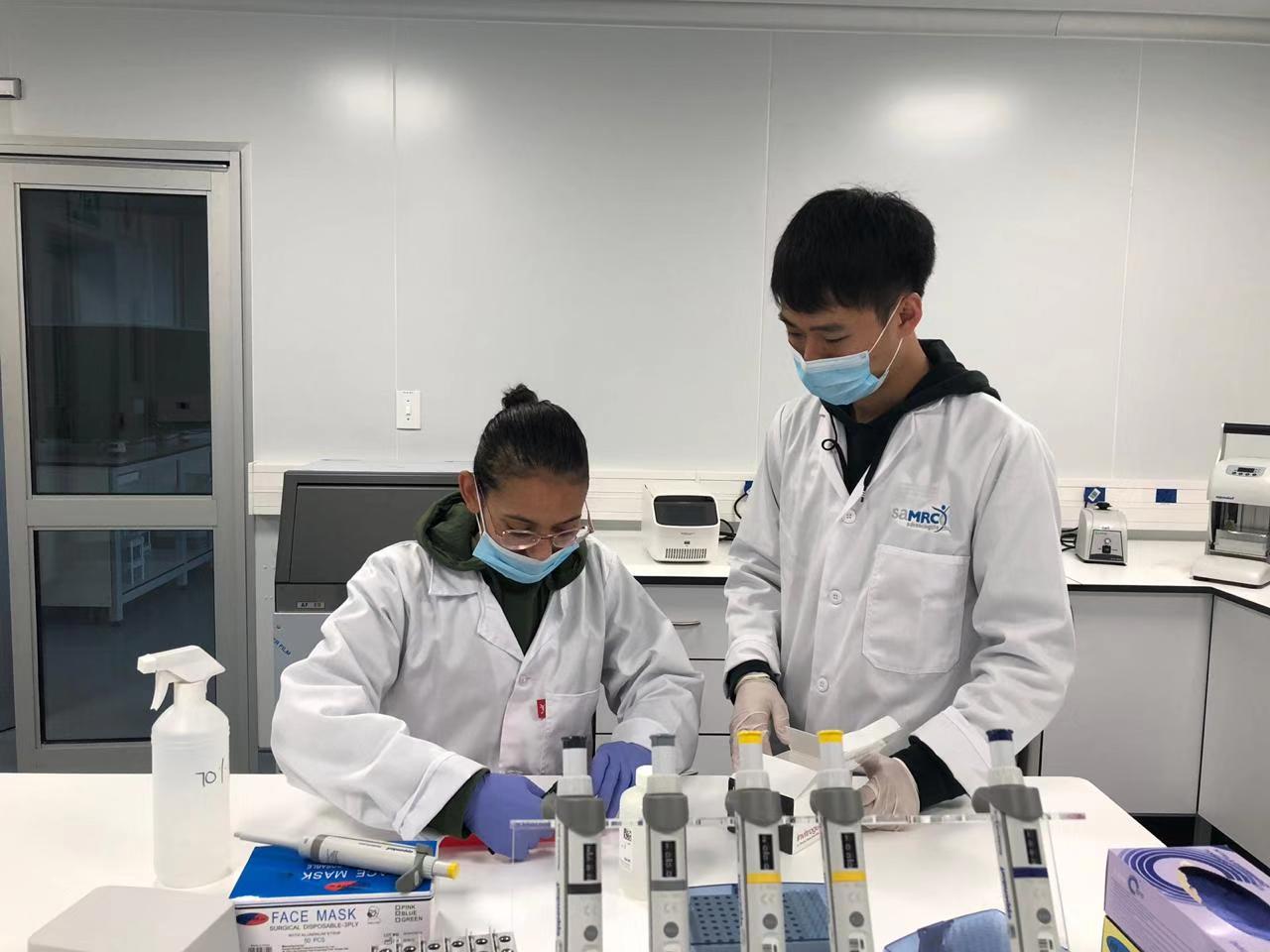 MGI trainer Li Hao went to South Africa for training
Counsellor Hou Lihong of the Science and Technology Office of the Chinese Embassy of South Africa stated that 20 years of China-South Africa scientific and technological innovation cooperation have achieved significant progress and has become an important part of the comprehensive strategic partnership between China and South Africa. He spoke highly of the efforts made by MGI and SAMRC to build a genomics center, encouraging the two sides to deepen cooperation and make new contributions to China-South Africa science and technology innovation and economic and social development.
In the future. MGI will leverage its strength in tools to launch public health and precision medicine projects. Such efforts can help cultivate talents in the African genetic field for the benefit of South Africa and other parts of Africa.