MGI's DNBSEQ™ sequencing* technology and platforms are contributing to advances in basic scientific research in agriculture and facilitating breakthroughs in molecular breeding with a highly efficient, high speed all-in-one workflow.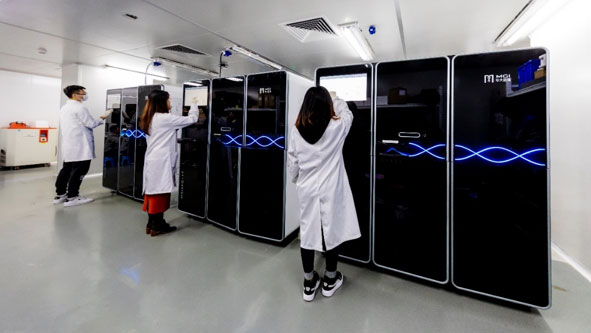 In the past decade, sequencing technology has greatly advanced our knowledge of species genomes and gene regulation as scientists made continuous progress in the field of agriculture.
From high-throughput sequencing-based animal and plant genomics research to molecular breeding of animals and crops, sequencing technology today is acquiring great potential in agrigenomics while showing prospects for their utilization in breeding and genomic selection.
As a provider of core tools in life science, MGI has been providing agricultural scientists and breeders with high-quality, convenient, and stable agricultural genome products and technology*. In particular, our DNBSEQ™ sequencing technology* has contributed to basic scientific research in agriculture as well as molecular breeding across regions and species.
Advances in Basic Scientific Research in Agriculture
To develop new understanding of an organism, de novo sequencing is often used in agriculture to sequence and construct a relevant genome map. However, existing third-generation sequencing technology using long-read length sequences for de novo is limited in accuracy, while second-generation sequencers using short-read length technology suffer from low genome de novo integrity.
Based on this, MGI developed our very own single-tube long fragment sequencing, stLFR, which realises the acquisition of long-fragment DNA information based on high-precision short-read sequencing, with the read sequence length at as high as 10k to 300k.
Using MGIEasy stLFR Library Prep kit combined with MGI's DNBSEQ sequencing technology*, stLFR enables high quality small variants calling, phasing diploid genomes, detection of structure variations and other long read applications. Its assembly software also facilitates a simpler, faster, and more economical assembly of animal and plant genomes.
In fact, research shows that, in comparison to other long-read technologies tested, MGI stLFR required lower amount of DNA input – only at nanogram level – to perform the de novo assembly of a plant genome. Its assembly also contained fewer mismatches and InDels and was more accurate.
In addition, MGI's innovation has supported researchers in quickly conducting resource census screening through whole-genome resequencing and RNA sequencing. The comprehensive map generated can help in the identification of a large number of genetic differences, genetic evolution analysis and the prediction candidate genes for important traits.
Advances in Molecular Breeding
Beyond basic scientific research, MGI is continuously facilitating breakthroughs to better serve agrigenomics researchers and breeders and expand the applications of our sequencing platforms* in molecular breeding.
Based on our self-developed multiplex PCR technology, MGI's ATOPlex platform can design specific multiplex PCR primers for targeted genomes, which applies to agriculture and husbandry. It is able to detect multiple targets simultaneously to obtain the sequence with multiple target genes in the sample, which not only saves time and cost, but can also generate more information from even a small sample. In addition, it demonstrates scalable genotyping technology and reproducible results.
In a research involving a customised panel for grouper, the ATOPlex platform demonstrated great performance with a prediction accuracy of grouper body weight at over 80 per cent and of ammonia tolerance at more than 95 per cent. The customised panel has a more than 94 per cent detection rate for different grouper species.
In addition to targeted sequencing, MGI's sequencers* have enabled simplified genome sequencing for population analysis, as well as low coverage whole genome sequencing (lcWGS) of large cohorts to facilitate rapid and efficient breeding of livestock and poultry.
In a genotyping exercise of Yorkshire pigs based on simplified genome sequencing method RAD-seq, researchers reported significantly lower cost, reduced complexity of sequencing data and less time required for bioinformatics analysis as only a small part of the genome was needed to be sequenced.
At the same time, low coverage whole genome sequencing (lcWGS) of a large cohort of Duroc boars was performed on the DNBSEQ-G400 platform*. The method reduced the sequencing cost by reducing the sequencing depth, and when combined with the algorithm of genotype imputation, can obtain relatively complete genome information.
Contributions of DNBSEQ™ Sequencing Platforms*
Researchers in recent years have been working towards streamlining the process of molecular breeding. In response, MGI introduced our own molecular breeding scheme – spanning from sample pre-processing to library preparation, sequencing to bioinformation analysis – that accelerates the overall process.
To begin, the early stage of a molecular breeding project is usually characterised by a time-consuming and error-prone manual process of sample transfer. MGI's automated sample processing systems effectively speed up the pre-processing efficiency of breeding samples.
The MGISTP-7000 High-Throughout Automated Sample Transfer Processing System, for example, can transfer 192 samples from screw cap transport tubes to 96-Well Microplates in 40 minutes. It can increase efficiency by three to four times compared with manual handling and can easily withstand large-scale sample transfers despite limited manpower.
Meanwhile, the MGISP-960 High-Throughput Automated Sample Preparation System can be adopted to process samples in batches, thereby eliminating the need for repeated manual operations, improving the stability of NGS library preparation, reducing the total cost, and comprehensively enhancing the overall work efficiency of the laboratory. In molecular breeding applications, the system is able to facilitate DNA extraction from 96 samples and the PCR-free WGS library construction in five hours altogether.
On the other hand, MGI's proprietary DNBSEQ™ sequencing* technology demonstrates high accuracy, decreased duplicates, and extreme low index hopping rate compared with other sequencing technologies. Our sequencers are designed with different throughputs, ranging from DNBSEQ-G50* to DNBSEQ-G400* and DNBSEQ-T7*, to meet the needs of companies, research institutes and government agencies across different sample sizes and detection speeds in molecular breeding applications.
Lastly, the Molecular Breeding Analysis System wraps up the overall workflow as an all-in-one computing workstation capable of data storage and processing. Together, MGI's technology* enables diverse molecular breeding applications in an efficient and cost-effective manner.
The various applications of MGI's innovative sequencing technology* have propelled researchers and practitioners in the field of agriculture worldwide to achieve greater discoveries and breakthroughs. Agrigenomics has helped with the construction and improvement of a rich genetic information database for biodiversity, as well as animal and plant evolution mechanisms. It has also improved the breeding of crops and livestock, while providing an unprecedented basic resource for genome sequencing and genotyping research.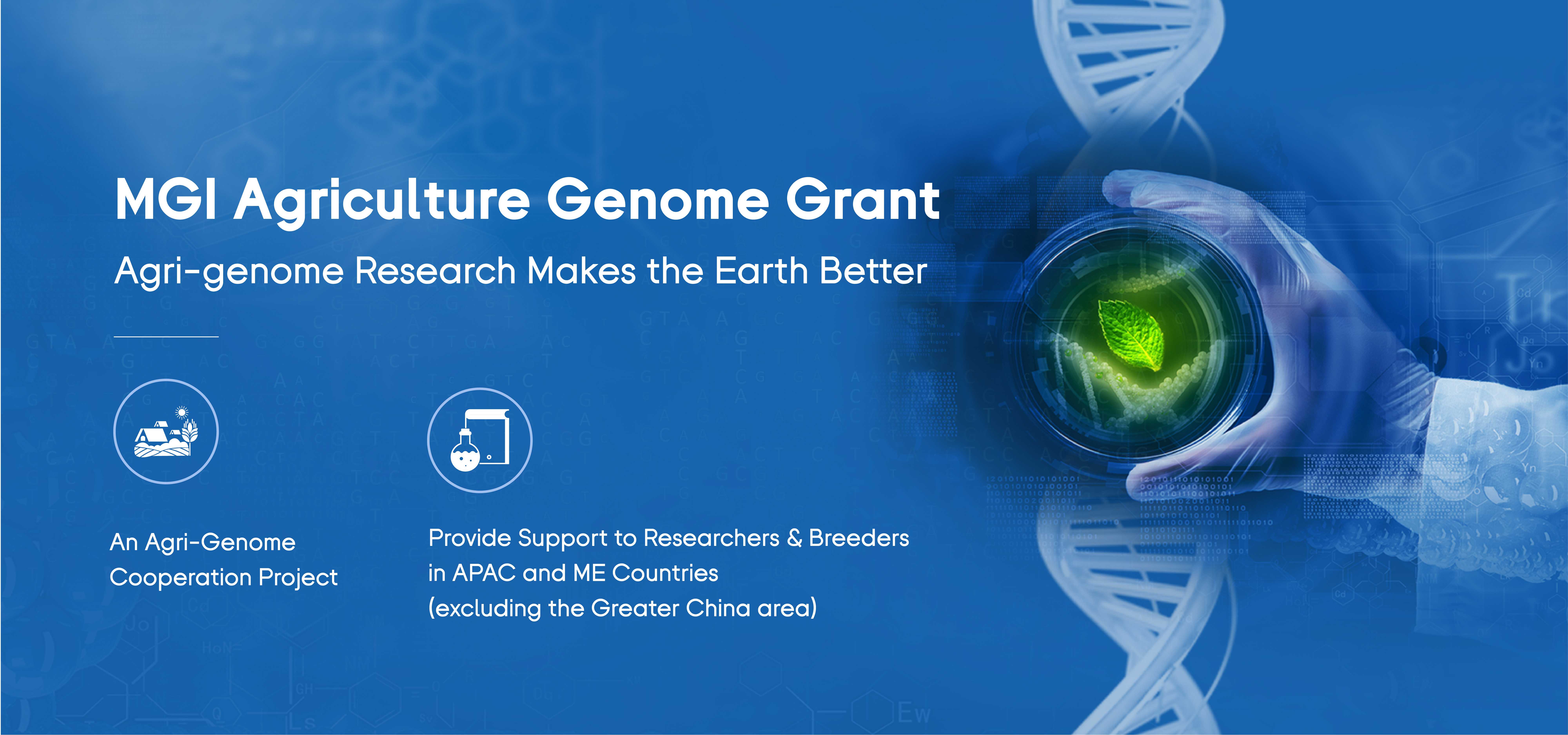 To further our commitment to life science innovation and development, MGI set up the Agriculture Genome Grant to collaborate with and support researchers and breeders in APAC and Middle East countries (excluding Greater China). Alongside these new industry movers and shakers, and our global network of industry partners, MGI continues to drive agrigenomics research through the development and continuous improvement of our sequencing technology*.
To learn how MGI's sequencing technology empowers the development and evolution of agrigenomics, please visit here. For more details about MGI's Agriculture Genome Grant, click here to register for the upcoming webinar on May 24th, 2022.
*Unless otherwise informed, StandardMPS and CoolMPS sequencing reagents, and sequencers for use with such reagents are not available in Germany, USA, Spain, UK, Hong Kong, Sweden, Belgium, Italy, Finland, Czech Republic, Switzerland, Portugal and Austria.