COVID-19 has highlighted the importance of genomics in a pandemic response. In Africa, where genomics research is steadily catching up with that of European and North American countries, MGI (Shenzhen, China) has been working with local organizations to scale up their sequencing capabilities and improve local responses to COVID-19 and other major health threats.
Earlier this year, MGI partnered with MEDIAG Análises Clínicas (Luanda, Angola), Angola's first genomics laboratory and one of the few in the country authorized to conduct COVID-19 testing, by providing the DNBSEQ-G50 genetic sequencer* and MGISP-100 automated sample preparation system. To further enhance the laboratory's sequencing capability, MGI also donated its ATOPlex RNA Library Prep Set.
"Genomics have become central in tackling COVID-19," commented Lourenço Quixari (Mediag SA). "This collaboration with MGI has expanded our capacity and empowered us to detect and respond more effectively to possible variants in the future."
MGI's high-efficiency and innovative technology* improves the overall speed, efficiency, and affordability of the laboratory workflow. The DNBSEQ-G50*, based on the proprietary DNBSEQTM technology*, is a compact and flexible benchtop sequencer* that supports a range of applications including medical research, clinical diagnostics, and agriculture. The MGISP-100, on the other hand, is an automated workstation specialized for high-throughput sequencing* library preparation, minimizing the need for manual handling.
Empowered by its multiplex PCR technology, MGI's proprietary ATOPlex ultra-high multiplex platform provides effective whole-genome sequencing* and monitoring of new COVID-19 variants such as Omicron. In addition, it facilitates new strain tracking as well as personalized and customized panels for targeted monitoring of pathogenic micro-organisms.
The same sequencer*, automation system and kits were also supplied to the Nigerian Institute of Medical Research (NIMR; Lagos), which supports the country's public health authority in the genomic sequencing of infectious strains. Using MGI's DNBSEQ-G50*, the NIMR developed an application note on the complete genome sequencing and identification of SARS-CoV-2 variants.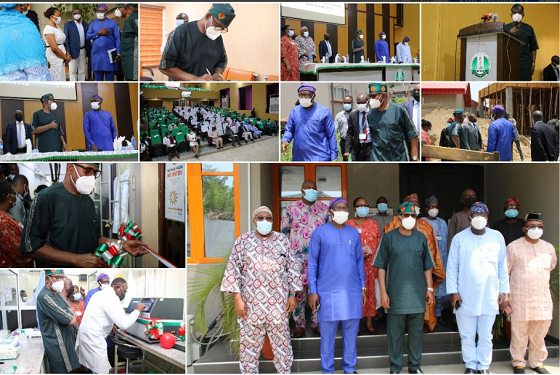 "To date, we have effectively sequenced hundreds of SARS-CoV-2 genomes from COVID-19 positive samples using MGI's DNBSEQ-G50,"* said James Tunde, Research Fellow at the NIMR. "This data derived will contribute to informing a robust and dynamic public health response for the containment of the ongoing COVID-19 pandemic in Nigeria, Africa, and the rest of the world."
Indeed, MGI's instruments* have played a key role in the detection, monitoring, and tracing of COVID-19 and its variants to safeguard communities across the continent. In South Africa, MGI's ATOPlex technology, DNBSEQ-G50* and MGISP-100 assisted researchers from the South African Medical Research Council (SAMRC) in screening and managing COVID-19 hotspots and circulating variants in wastewater samples. The team identified fragments of the Omicron variant in 11 out of 12 samples collected across Cape Town, which marked the first time the variant was detected in the city's wastewater system and informed a timely public health response amidst a surge in cases.
Meanwhile, in Sierra Leone, MGI supplied the DNBSEQ-G50* to a key national COVID-19 testing laboratory to support national efforts in virus detection and genomic sequencing of COVID-19 variants. Besides pathogen monitoring, MGI's technology* has also aided the laboratory in research on malaria, Ebola, and other endemic diseases.
"Genetic technology has immense potential and a diverse range of applications beyond just COVID-19. It can also be used for genomic medicine, and we hope that, with MGI's technology*, we can make our mark in the international science and research landscape," said Tunbosun Ogunbanwo, Director, Public Affairs at the Lagos State Ministry of Health. The city's biobank had acquired MGI's DNBSEQ-G400 genetic sequencer*, MGISP-100 and MegaBOLT bioinformatics analysis accelerator to strengthen its diagnosis, research, and outbreak investigation capacity.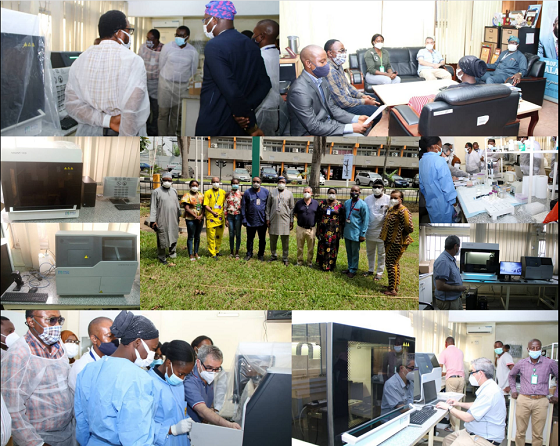 Beyond COVID-19, MGI has made great strides in agrigenomics and cancer genomics within Africa through its advanced life science tools*. At the Agriculture Research Council (ARC) in South Africa's Pretoria, for example, MGI has installed the DNBSEQ-G400* to promote innovation amongst scientists and foster the development of the local agriculture sector.
In the area of cancer research and diagnostics, MGI is also set to collaborate with Ghanaian cancer research start up Yemaachi Biotech (Accra, Ghana), as part of Yemaachi's initiative to expand the world's knowledge of how cancer affects people of African descent. Leveraging MGI's DNBSEQTM technology* and DNBSEQ-G400*, the project aims to create a comprehensive pan-African genomic and clinical knowledge base to advance precision oncology efforts.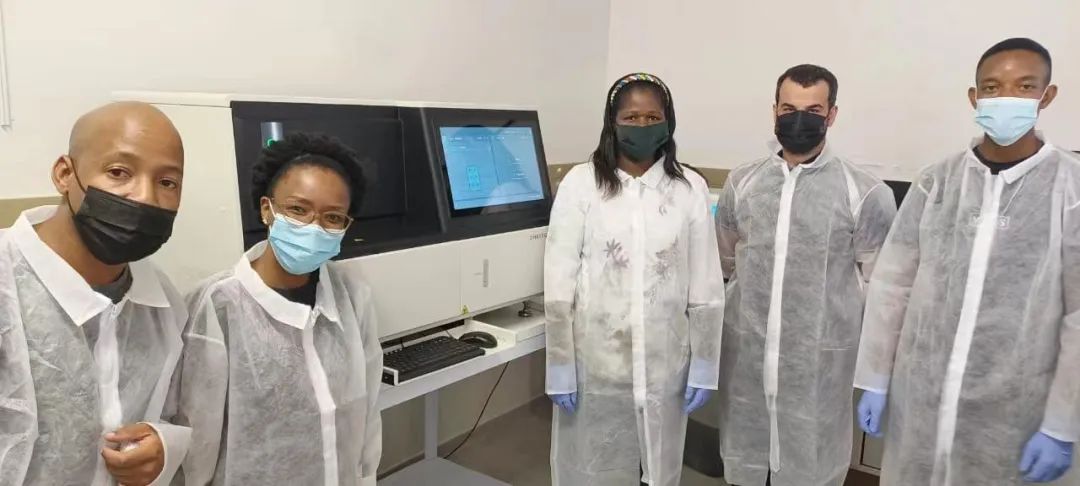 From contributing to local COVID-19 management to research in agrigenomics and oncology, MGI has been consistently recognized by its African partners for the speed, efficiency, and affordability of its core tools and technology*. As genomics research continues to flourish in Africa, MGI is committed to empowering the various countries in the continent in growing their genomic capabilities and transforming local healthcare.
Click here to register for an upcoming webinar on June 29th, 2022 with the Nigerian Institute of Medical Research on how MGI's technology* facilitated the sequencing of SARS-COV-2 complete genomes.
For more information, please visit the following resources and pages:
· MGI's critical efforts in genomic sequencing
· Application note on the complete genome sequencing and identification of SARS-CoV-2 variants by the Nigerian Institute of Medical Research
*Unless otherwise informed, StandardMPS and CoolMPS sequencing reagents, and sequencers for use with such reagents are not available in Germany, USA, Spain, UK, Hong Kong, Sweden, Belgium, Italy, Finland, Czech Republic, Switzerland, Portugal, Austria, and Romania.