MGISP-100B
MGISP-100B is a liquid handling workstation with integrated 8 channel pipettes for extraction. MGISP-100B can work with MGIEasy Nucleic Acid Extraction Kit and extract 8/16/24/32 samples per run. It also can be used to set up RT-PCR after extraction automatically.
Request Quote
Features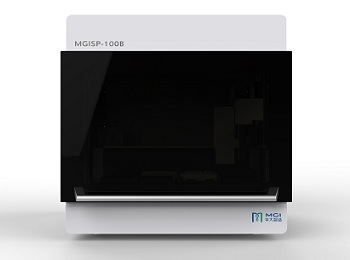 Flexible:

① Each run can perform 8/16/24/32 samples within 40~80min.

② Easy to operate, no manual intervention during extraction.

Efficient:

① Integrate various functions, occupation less than 0.5m2 .

② Can perform extraction and RT-PCR setup, just cooperating with a few common auxiliary devices.

Safe:

① Use filter tips for avoiding cross contamination.

② Enclosed safety protection door and automated extraction to protect operator safety.

Reliable:

① Good repeatability between runs with stable extraction effect.

② The lower limit of the pipetting range is 2 μL . The accurate pipetting precision ensures higher extraction efficiency.
Performance Parameter
MGISP-100B



Throughput

Standard:8/16/24/32 samples per run

Pipette Type

Fixed 8 channel

Pipette Range

2 μL~200 μL

Pipette CV

2 μL: <5%, 200 μL: <1%

Pipette Accuracy

2 μL: <±10%,200 μL: <±1%

Temperature Control Module Range

4℃~90℃

Temperature Control Module Accuracy

±1℃ at 55℃

Temperature Control Module

±1℃ at 72℃

Positioning precision of robotic arm

±0.1mm

HEPA System

ISO5 Class

UV Disinfection

Radiation dose is higher than 100 000μW.s/cm2

System Parameter
Power & Dimensions & Net Weight

Power Type: 100V~240V,50/60Hz

Rated Power: 400VA

Dimensions: length: 780mm; width: 725mm; height:777mm

Net Weight: 120kg







Operating Environment Requirements

Temperature: 19℃~25℃

Relative Humidity: 20%RH~80%RH,non-condensing

Atmospheric Pressure: 80kPa~106kPa

Waterproof Rating: IPX0