SHANGHAI, CHINA, May 13, 2021 -- Shanghai National Exhibition and Convention Center witnessed the grand opening of the 84th China International Medical Equipment Fair (CMEF Spring 2021). As the first large-scale medical equipment exhibition since the pandemic, CMEF attracted many enterprises to present their new products, technologies and packages. MGI showcased three all-in-one mobile platforms, including MGI 5G-powered Robotic Ultrasound Vehicle, the Nuclei Acid Testing Vehicle co-developed by Dynaflow and the Mobile Magic Cube Laboratory. These three mobile platforms can be widely used in remote medical imaging and consultation, emergency rescue, intelligent health management and other intelligent medical services.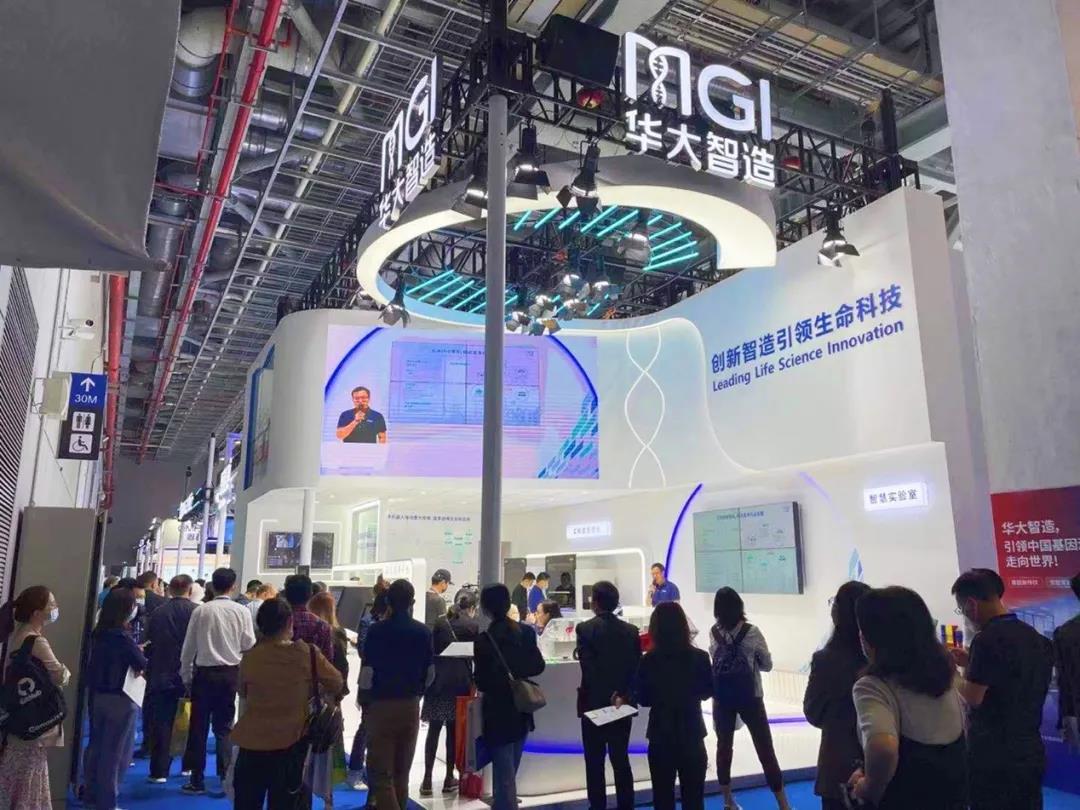 Breaking the limitation of time and space, MGI's 5G-powered Robotic Ultrasound Vehicle makes healthcare services within reach.
MGI's proprietary Robotic Ultrasound Vehicle, composed of examination area, information input area and blood sample collection area, provides one-stop diagnosis package without the need for a professional sonographer onboard. The platform including remote ultrasound robot, robotic arm and AI-assisted diagnosis software, can manage the sample collection and remote real-time diagnosis.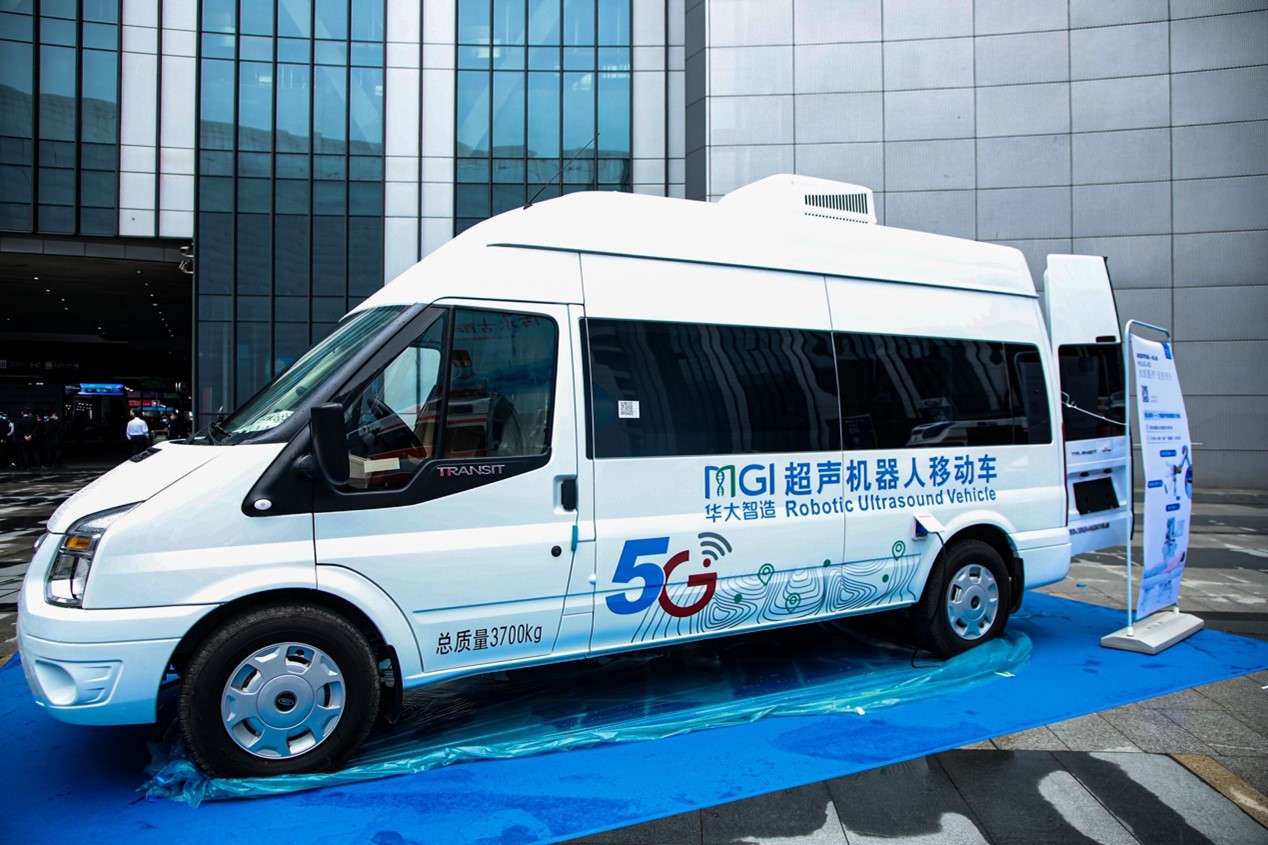 The Vehicle provides a package for the areas lacking medical resources or quality resources. The flexibility, mobility and easy-to-operation features overcome the common issues e.g., distance and availability making the real-time ultrasound diagnostics accessible to more people in need.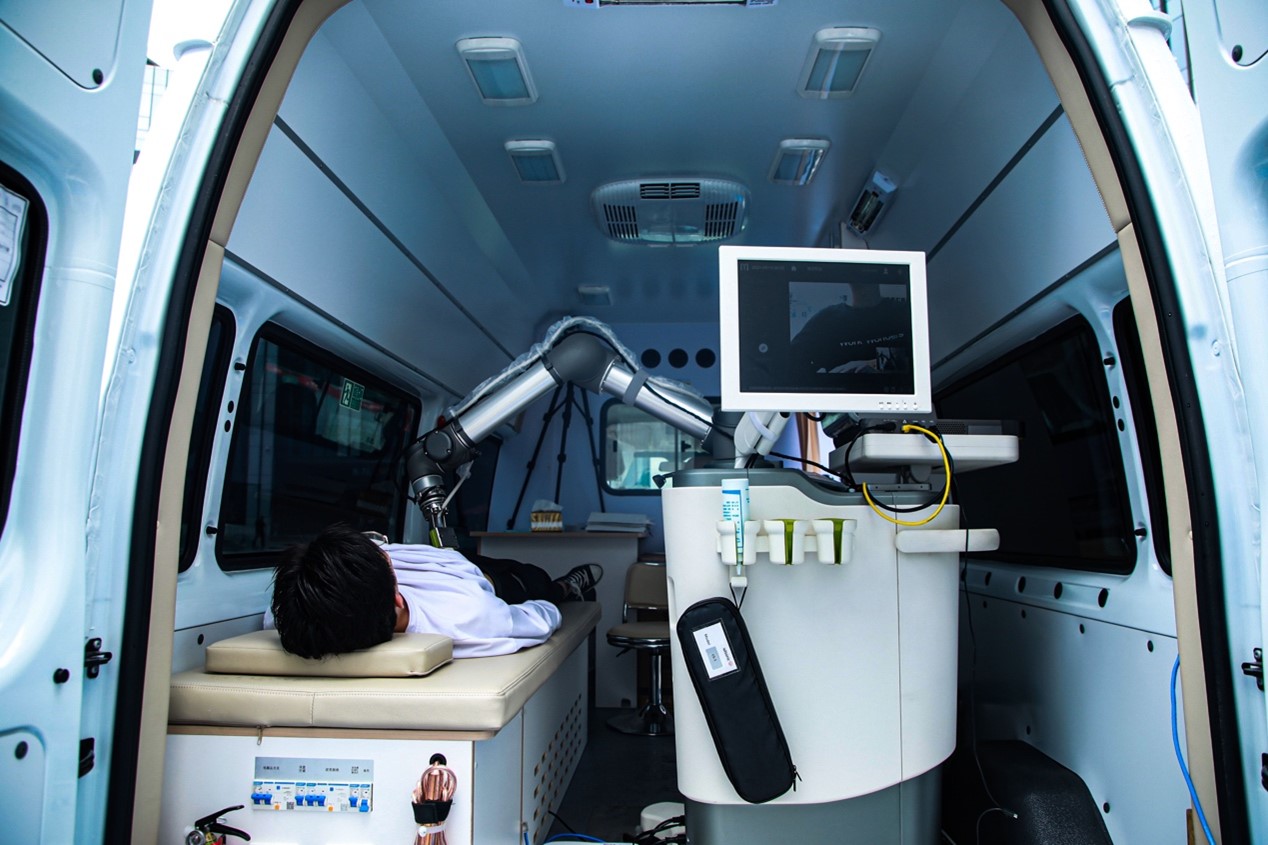 The "5G-powered robotic ultrasound vehicle" developed by MGI was officially launched on April 12, 2021. In just one month, it already accumulated extensive frontline experience. As part of the "Early Screening, Early Diagnosis and Early Treatment" program in Anji, Zhejiang, MGI's Robotic Ultrasound Vehicle supported Shanghai No.10 People's Hospital in the remote breast cancer diagnosis service to patients from remote areas.
Always ready to go! The Nuclei Acid Testing Vehicle contributes to responding to public health emergencies.
At CMEF, MGI also demonstrated another star product, the Nuclei Acid Testing Vehicle. It can be quickly deployed to any place to carry out nucleic acid testing, strengthening the local COVID-19 testing capability.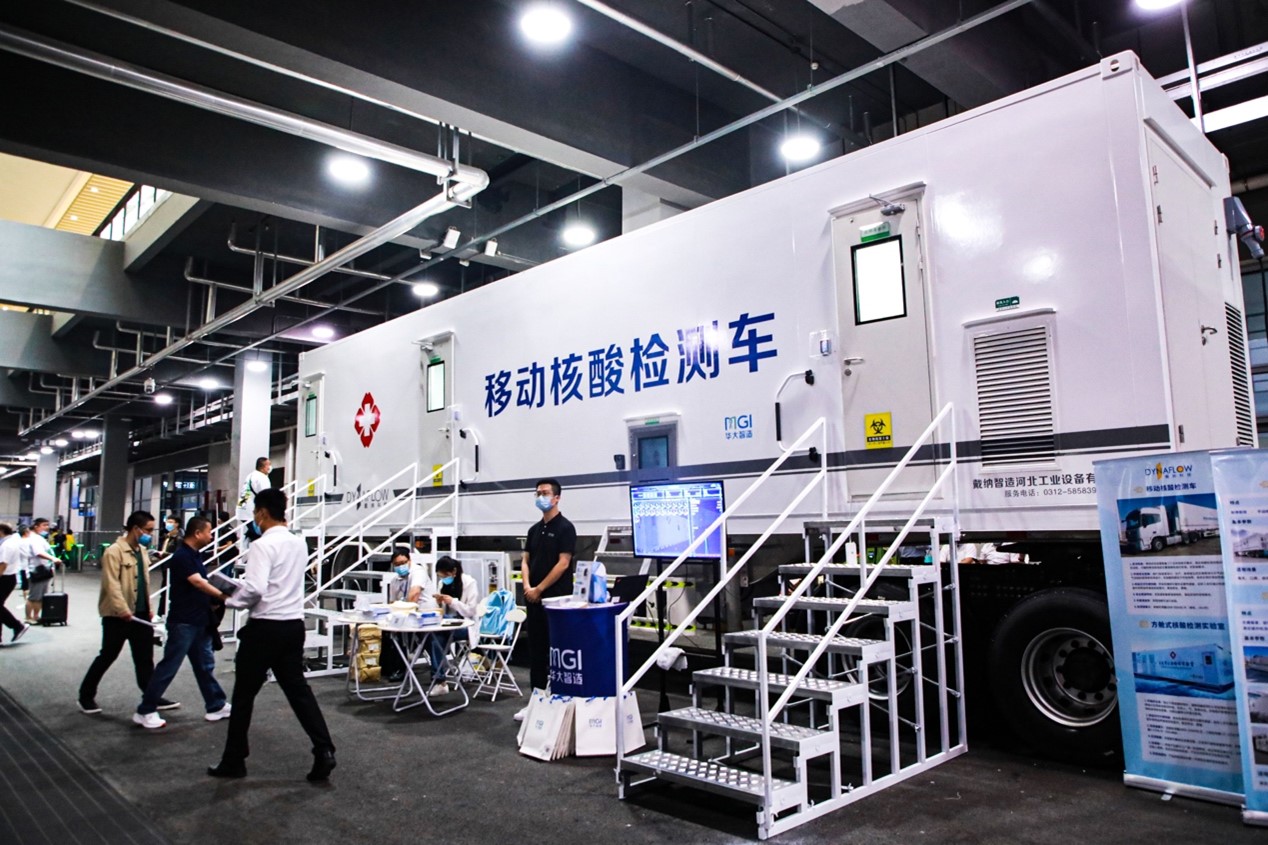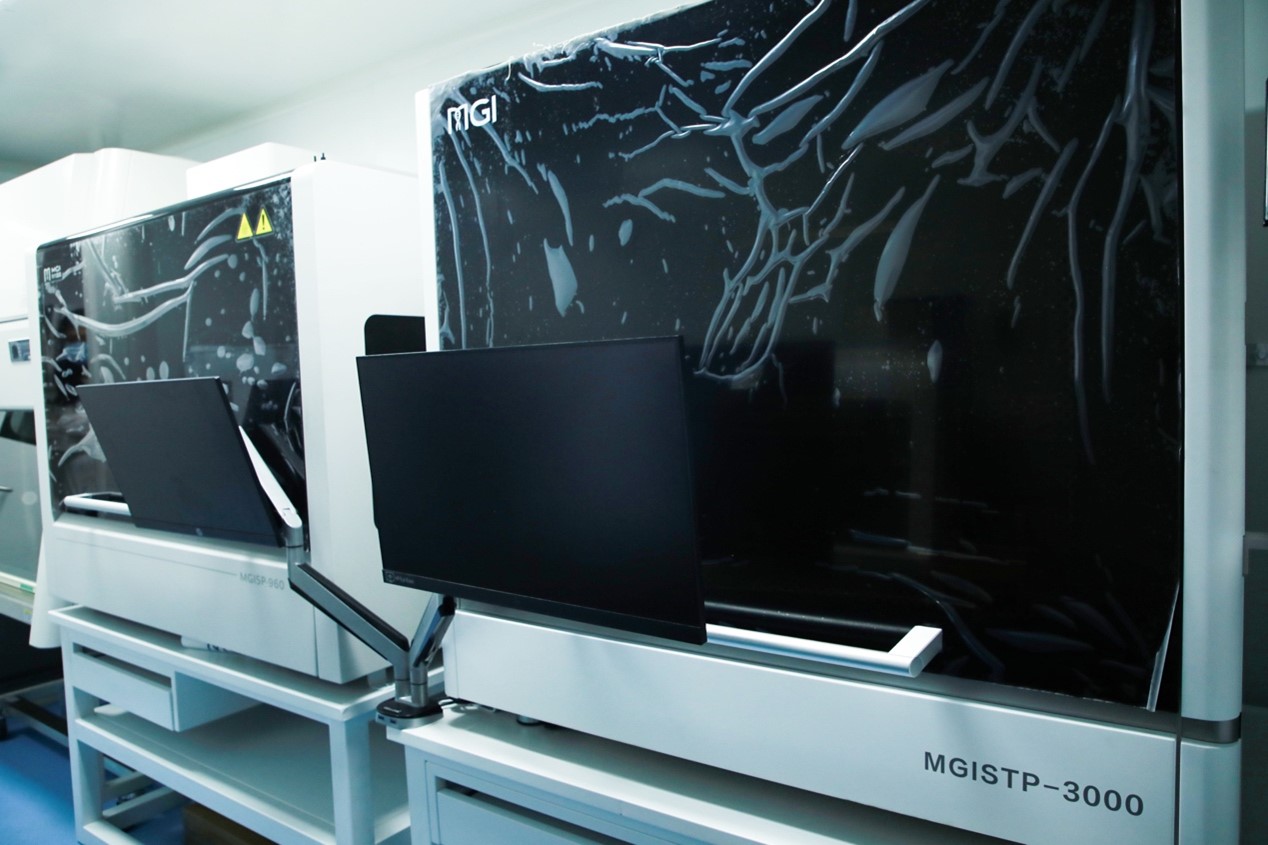 This mobile, vehicle-mounted P2 biosafety lab was jointly developed by Dynaflow and MGI. It can adapt to the environment between - 50℃~ 50℃ and achieve 100K grade hygiene standard. It can be used immediately simply powered by a 20KW diesel generator.
The vehicle is equipped with fully automated MGISTP-3000/MGISTP-7000 sample transfer processing system, MGISP-960 high-throughput automated sample preparation system and ZLIMS intelligent laboratory management system. It can provide automatic management of the whole process from barcode identification, sample dispatch, nucleic acid extraction, and fluorescence quantitative PCR detection to report distribution. It is suitable for the construction of bio-safety risk prevention and control system, and can effectively meet the needs of customs ports, CDC health and quarantine departments and other relevant authorities. This vehicle can process up to 60,000 people (10 samples mixed in 1 tube), particular useful for large-scale testing needs for COVID-19 or any other infectious diseases such as SARS, Ebola, HIV and influenza.
Built in 5 minutes, the MGI Magic Cube Lab is highly flexible and easy to operate.
MGI also displayed its latest innovation Mobile Magic Cube Lab. The Lab can be built in 5 minutes to create a clean space at any sample collection location to conduct genetic sequencing. It is equipped with DNBelab-D4 automated library preparation lab and MGI's proprietary DNBSEQ-E5* portable genetic sequencer. With high flexibility and customizability, it can be transported by a SUV to remote areas for scientific research, environmental examination, food safety testing and other purposes.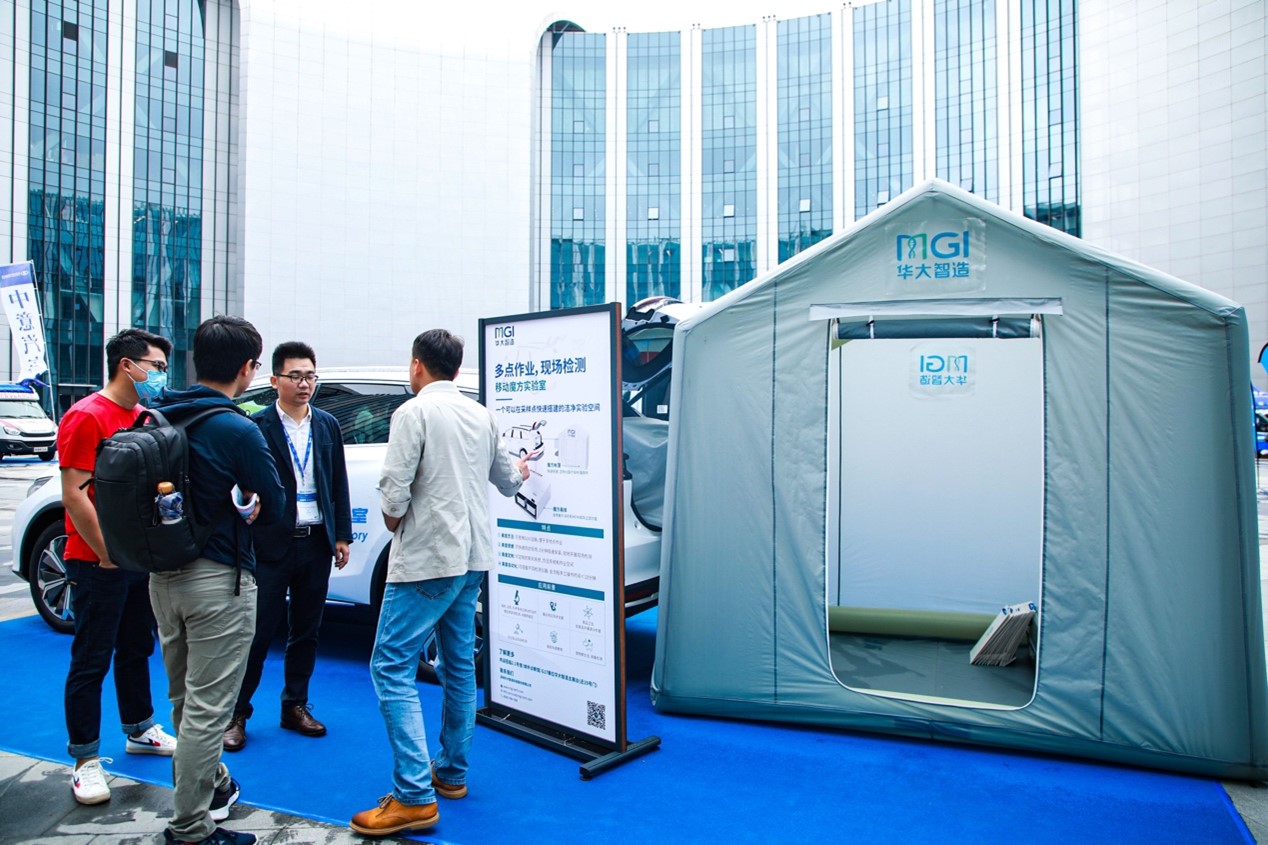 In recent years, many segments including genetic sequencers, automated equipment and medical devices are developing towards the new market trend of being portable, fast and intelligent. During the COVID-19 pandemic, MGI quickly developed flexible mobile nucleic acid testing platforms in the time of need contributing to the fight against the virus. MGI's nucleic acid container labs have supported the pandemic prevention and control in many cities in China including Fuzhou, Fuyang, Qingdao Customs, Xiamen, Langfang, and many more. MGI container sequencing labs have helped the authority in Jinan identify the COVID-19 strain during the imported cold-chain incident. Internationally MGI Container Labs contributed to the fight against COVID-19 in other countries e.g., Sweden and Latvia. After the pandemic, MGI's platform will also potentially provide rapid and accurate testing and prevention for other unexpected public health emergencies.
Based on its powerful R&D ability of mobile technology platforms, MGI will further expand the technology to applications in life sciences to benefit the health of all people.
*All sequencers and sequencing reagents are not available in Germany, the US, Spain, the UK, HK SAR, Sweden and Belgium.