Recently, the topic "A Lab Technician complete tube decapping and recapping 2,000 times at one night with one hand" attracted great attention on Weibo, Chinese version Facebook. Li Xiuping, the hero of the story, is a lab technician at Shenzhen Hospital. Xiuping is capable of decapping and recapping the tube with one hand to speed up the Nucleic acid testing. She's broken the highest record of completing tube decapping and recapping 2,000 times at one night with a single hand, showing how much manual work it requires to perform nucleic acid testing in traditional methods.
What steps are usually required for nucleic acid testing?
The testing process generally includes sample collection, sample pretreatment, viral nucleic acid extraction, nucleic acid detection, and result analysis. Among them, samples need to be inactivated, plate transfer before nucleic acid extraction. The sample transfer process after conventional inactivation requires a series of complicated procedure, including information check, tube decapping, liquid transferring, and tube recapping, which require a lot of manual work.
These seemingly trivial operations can significantly affect the efficiency of nucleic acid testing, especially for large-scale screening. Meanwhile, frequent manual contact with samples can increase the risk of infection.
MGI's Automated Sample Transfer Processing System
can help solve this problem and improve the efficiency
The MGISTP-7000 high-throughput automated sample transfer processing system is specially designed for nucleic acid testing in the COVID-19 pandemic. Compared with the traditional manual operation,MGISTP-7000 integrates tube uncapping, tube recapping, barcode identification, automated liquid transfer and negative pressure protection. With just a single-click, it can load original samples with caps, and transfer up to 192 samples from airtight sample tubes or plain tubes to 96-well microplates in 40 minutes, with zero human contact during the process.
The system can be connected with MGISP-960 automated nucleic acid extraction equipment for subsequent automated nucleic acid extraction and testing. This avoids human contact with samples to reduce human errors and the risk of infections and ensure a safer working environment for lab operators.
In addition, MGI also launched MGISTP-3000 a bench-top automated sample transfer processing system that has successfully been put into operation in Huo-Yan Labs of both Guangzhou and Shenzhen. Compare to the high-throughput automated sample transfer processing system, MGISTP-7000, specially designed for large-scale nucleic acid testing, MGISTP-3000 is more suitable for medium-throughput applications.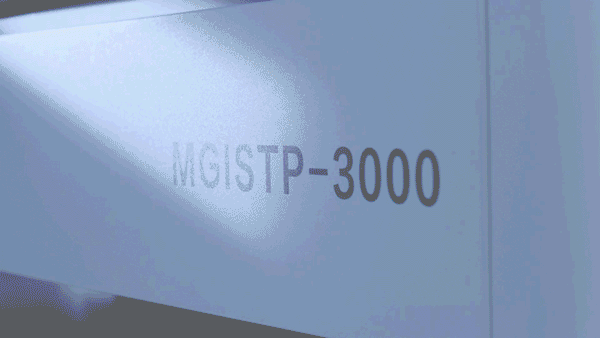 MGISTP-3000 in operation, manual operation (left) VS machine operation (right)
Smaller, lighter, and easier to install, MGISTP-3000 can be placed on a regular lab countertop and is capable of processing 96 samples in 40 minutes. MGISTP-3000 is equipped with three independent sample loading plates, this compact desktop system is compatible with 5-15ml VTM virus sampling tubes, fecal collection tubes and saliva collection tubes, and it supports three different tubes to load samples at the same time.
As the core equipment of the Huo-Yan lab, MGI's Automated Sample Transfer Processing System has been fighting through multiple battles in the COVID-19 fight including the outbreaks in Beijing, shijiazhuang, Qingdao, Ruili, Anhui, and xiamen, testing 1 million samples a day at maximum.
Notably, in the recent large-scale nucleic acid testing in Guangzhou, Foshan and Shenzhen, multiple automated sample transfer processing systems have been providing powerful support to improve the efficiency of local large-scale testing, relieving the labor pressure and ensuring a safer working environment for lab operators.
2021, several MGISTP-7000 units support the large-scale nucleic acid testing in Guangzhou.
To accommodate different applications, MGI has successively launched a variety of mobile platforms, MGIFLP-HWRS(Fast Setup Modular Negative Pressure Lab), vehicle-mounted PCR labs, and integrated automated nucleic acid testing labs. The mobile labs with increased testing capacity provide an integrated solution to contribute to building a new public health infrastructure in China.