Ghent, Belgium, 29 March 2023 – MGI Tech Co., Ltd. ("MGI"), a company committed to building core tools and technology to lead life science, emphasized breakthrough WGS prices based on MGI's innovative DNBSEQ-T20×2* and DNBSEQ-T7* ultra-high throughput genomic sequencing platforms at the Revolutionizing Next-Generation Sequencing(5th edition), a VIB tools and technology conference, taking place 27-28 March in Ghent, Belgium.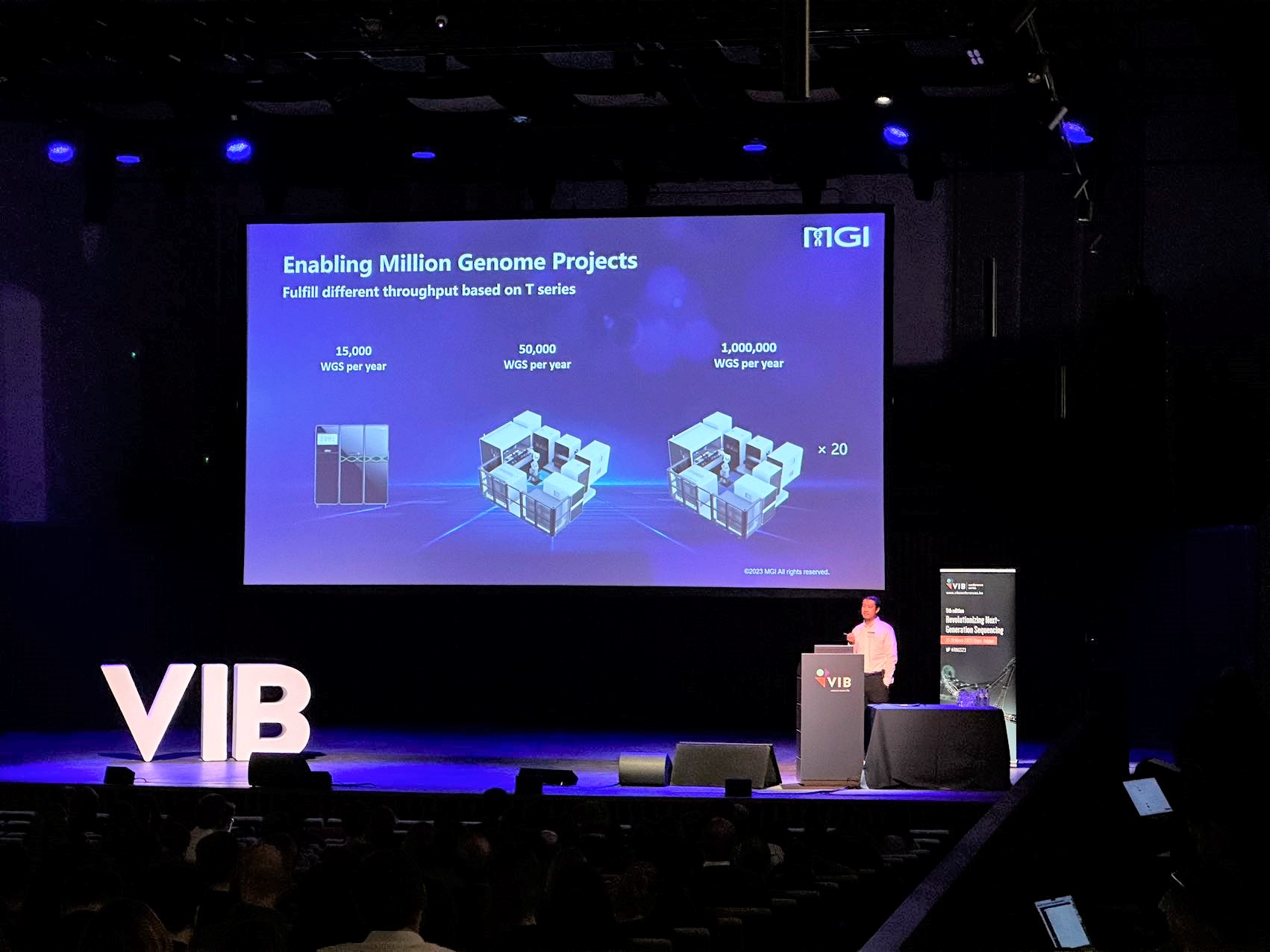 The genetic sequencing industry has long aimed to reduce the cost of genome sequencing to $100 or less per unit. At the Advances in Genome Biology and Technology (AGBT) General Meeting 2023, MGI achieved this goal by lowering the price of whole genome sequencing to under $100 with the launch of DNBSEQ-T20×2*. During the VIB conference, Dr. Yong Hou, General Manager of MGI Europe and Africa, presented "Trailblazing Path to Sub Hundred-dollar Genome", in the plenary session 3: Outbreak & population scale, highlighting the breakthrough pricing per genome again on the DNBSEQ-T20×2* and DNBSEQ-T7 using DNBSEQ technology and accessibility to European market.
"This historical landmark and the commercialization of DNBSEQ-T20×2* will enable the $100 human genome era and highlight the importance of reducing sequencing costs that drive the development and expansion of genomics globally", said Dr. Yong Hou, General Manager of MGI Europe and Africa. "With an ever-growing regional team, Customer Experience Centre in Riga and multiple lab facilities, we are ready to serve and support local customers in accessing affordable and cutting-edge technologies to empower customers throughout the European and African region."
Using MGI's innovative dip-immersion biochemistry to improve sequencing efficiency, scale and reduce sequencing costs, a single set of DNBSEQ-T20×2* can produce up to 50,000 WGS per year for under $100 per 30x human genome including instrument depreciation in a smaller footprint than DNBSEQ-T10×4*. One DNBSEQ-T20×2* supports the operation of 6 slides simultaneously, producing up to 42Tb per run with PE100 or 72Tb per run with PE150. Additionally, to the breakthrough sequencing cost of WGS, the uniqueness of DNBSEQ-T20×2* has demonstrated that it has revolutionized the traditional structure of a closed biochemical liquid circuit system and adopted an open system with a modular structure.
Having set the record in single-machine throughput, DNBSEQ-T20×2* opens new possibilities for the future of gene technology. "We have made it our mission to address the global need for faster, cost-effective, and accurate sequencing whether it be to identify and trace pathogens in today's post-pandemic world or to meet the promise of precision medicine." said Rade Drmanac, PhD, Chief Scientific Officer.
During the conference, Dr. Yong Hou also reported on the $150 genome for its flagship sequencer, the DNBSEQ-T7*, when running 15,000 WGS per year at 30x coverage. MGI's innovative DNBSEQ-T7* is a highly flexible production-scale platform enables simultaneous but independent operation of up to four flow cells, enabling different applications such as single-cell RNA sequencing, whole exome sequencing and whole genome sequencing to be run in different flow cells simultaneously. The DNBSEQ-T7* can generate 1-6T of high-quality data per day and the 150 genome on the DNBSEQ-T7* is tied to a commitment of processing 15,000 human genomes per year at 30x, in PE150 read length. Powered by DNBSEQTM Technology, the DNBSEQ-T7* makes sequencing more efficient and productive with advances in biochemical, fluidics, and optical systems, and the acceleration in reducing sequencing cost allows MGI to offer the highly competitive sequencing price in the market, which enables large scale projects in genomics, multi-omics and spatial omics.
Read more details about DNBSEQ-T20×2* from an interview of MGI Senior Vice-President Dr. Ni Ming and product information here.
*Unless otherwise informed, StandardMPS and CoolMPS sequencing reagents, and sequencers for use with such reagents are not available in Germany, Spain, UK, Sweden, Italy, Czech Republic, Switzerland and Hong Kong (CoolMPS is available in Hong Kong).
*Products are provided for Research Use Only. Not for use in diagnostic procedures (except as specifically noted)
About MGI
MGI Tech Co., Ltd. (MGI), headquartered in Shenzhen, is committed to building core tools and technology to lead life science through intelligent innovation. Based on its proprietary technology, MGI focuses on research & development, production, and sales of sequencing instruments**, reagents*, and related products to support life science research, agriculture, precision medicine and healthcare. MGI's mission is to develop and promote advanced life science tools for future healthcare. As of December 2020, MGI has a footprint that spans across more than 70 countries and regions, serves over 1,000 international users and employs more than 1,700 professionals globally, around 33% of which are R&D personnel. For more information, please visit the MGI website or connect on Twitter, LinkedIn or YouTube.