Singapore, March 2, 2023 - MGI's remote robotic ultrasound system, MGIUS-R3, was approved for Medical Device Registration by the Health Sciences Authority (HSA) of Singapore, bringing an innovative ultrasonic diagnosis solution to Southeast Asia.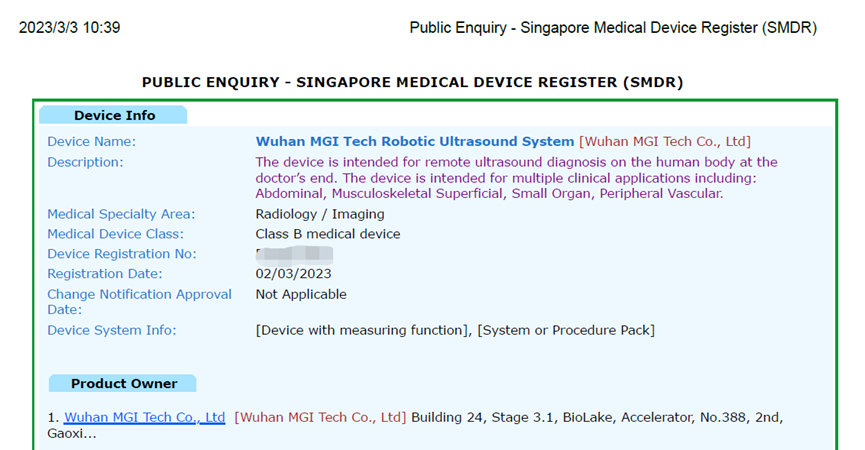 MGIUS-R3 is a robotic ultrasound device that enables professional doctors to conduct real-time diagnoses for patients by operating the ultrasonic probe remotely. The product combines robotic technology, remote real-time control system and feedback, overcoming the distance limitations of traditional ultrasound diagnostic methods for application in scenarios such as remote diagnosis and 5G-powered medical alliance. Previously, the robotic ultrasound system received Class III medical device qualification from the China National Medical Product Administration (NMPA), European CE certification, and the Therapeutic Goods Administration (TGA) of Australia, with recognition from domestic and overseas markets.
As of June 2022, the 5G robotic ultrasound system has already been put into use in 21 provinces, cities, and regions in China. MGI has established partnerships with several hospitals on remote-assisted diagnosis and screening. Powered by the robotic ultrasound system, citizens don't need to leave their house to receive quality physical examinations from doctors at Grade-A tertiary hospitals or health medical institutions in the comfort of their homes by making appointments via the hospitals' official WeChat accounts. The 5G-powered mobile remote health checkup service has enabled a quick, efficient, and fully covered pre-hospital emergency treatment system and realized pre-hospital and in-hospital information sharing and seamless connection.
Additionally, MGIUS-R3 helps to solve the shortage of medical resources. The use of the remote ultrasound system not only helps distribute high-quality medical resources to aid resource-constrained areas, but it also reduces the risk of cross-infection of medical staff and eases the burden of diagnosis and treatment of patients. Currently, the robotic ultrasound system has already been widely used in multiple infectious disease control and prevention, including fever clinics in Guangzhou, Shenzhen, and Xi'an.
The HSA Medical device registration, NMPA qualification and European CE certification will further improve MGI's product portfolio and provide more high-quality services to patients, especially for those areas with scarce medical resources.