· MGI solidifies its commitment to advancing life science innovation through ESHG Partnerships
· Collaboration with Alithea Genomics strengthens MGI-based protocols for RNA sequencing
Glasgow, UK, 14 June 2023 – MGI Tech Co., Ltd. ("MGI"), a company committed to building core tools and technology to lead life science, held a Corporate Satellite Meeting and revealed significant local partnerships at the ESHG Conference in Glasgow. The announcement of the collaborations reinforces MGI's strategic focus on the European life sciences market and the company's commitment to pushing the boundaries of innovation in sequencing and automation technologies.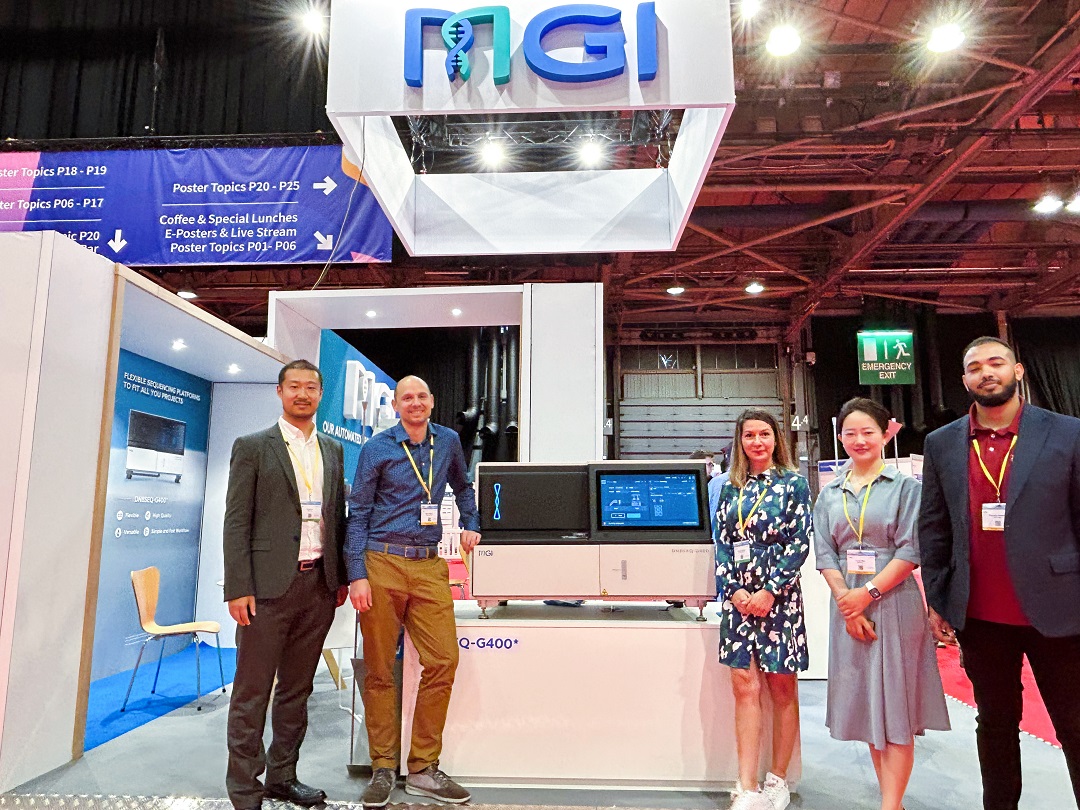 During the Corporate Satellite meeting, MGI, a leading supplier of gene sequencing platforms and sample preparation systems, proudly announced its partnership with Sistemas Genomicos, an esteemed user of the DNBSEQ platform*, Alejandra Pérez presented excellent results of its CE-IVD Whole Exome Sequencing solution on the MGI platform. Furthermore, Nik Matthews, the first European user, also known as a prominent scientific expert and leader in genome technologies and translational genomic research from Imperial College London, provided valuable insights into the workflow of the new NEB library preparation solution for MGI, highlighting its advantages for DNBSEQ users. Notably, Prof. Yannis Pitsiladis presented his multi-omic approach to fighting drug abuse in sports using the DNBSEQ platform*, stressing its potential and versatility.
"We are thrilled to showcase our latest achievements at the ESHG Conference, reflecting significant advancements in life science innovation. These partnerships, breakthroughs, and collaborations exemplify MGI's commitment to driving scientific progress and transforming healthcare,"stated Dr. Yong Hou, General Manager of MGI Europe and Africa.
"By harnessing cutting-edge technologies and fostering collaborations, we aim to revolutionize genomics research, empower scientists and clinical labs with state-of-the-art solutions. This reaffirms MGI's position as a leader in the industry and highlights our dedication to pushing the boundaries of what is possible in the field of life sciences."
In line with MGI's commitment to stay at the forefront of innovation in RNA sequencing, the company also signed a strategic partnership with Alithea Genomics, a Swiss company that is challenging the status quo in bulk RNA sequencing has developed extraction-free and massively multiplexed RNA-seq library preparation solutions with native MGI compatibility. To stay at the forefront of innovation in the RNA-seq space the company signed a partnership agreement to further boost MGI-based technologies and to increase in-house capacity.
The event garnered substantial attention, attracting a diverse audience of researchers, both in person and online, along with senior management members from MGI. The platform provided MGI with a great opportunity to strengthen its commitment to enhancing innovation through local partnerships in Europe, a market MGI considers to be a key one because of its world-class academic and public research funding, extensive regulatory landscape, and wide range of clinical applications.
For more information about MGI, please visit: https://en.mgi-tech.com/
*Unless otherwise informed, StandardMPS and CoolMPS sequencing reagents, and sequencers for use with such reagents are not available in Germany, Spain, UK, Sweden, Italy, Czech Republic, Switzerland and Hong Kong (CoolMPS is available in Hong Kong).
*This sequencer is only available in selected countries, and its software has been specially configured to be used in conjunction with MGI's HotMPS sequencing reagents exclusively.
*Products are provided for Research Use Only. Not for use in diagnostic procedures (except as specifically noted)
About MGI
MGI Tech Co., Ltd. (or its affiliates, "MGI"), headquartered in Shenzhen, is committed to building core tools and technology to lead life science through intelligent innovation. Based on its proprietary technology, MGI focuses on research & development, production, and sales of sequencing instruments**, reagents*, and related products to support life science research, agriculture, precision medicine and healthcare. MGI's mission is to develop and promote advanced life science tools for future healthcare. As of December 31, 2022, MGI has more than 2,800 employees, and 36% of whom are R&D personnel. Founded in 2016, MGI operates in more than 90 countries and regions, serving more than 2,000 customers. For more information, please visit the MGI website or connect on Twitter, LinkedIn or YouTube.