Cape Town, South Africa, 13 September2023 – MGI, a company committed to building core tools and technology to lead life science, is delighted to support The African BioGenome Project (AfricaBP), launched in 2021, in sequencing of the project's first plant species based on MGI's DNBSEQ-G400* versatile benchtop sequencer and single-tube long fragment read (stLFR) technology.
An affiliated project of the Earth BioGenome Project (EBP) and partnering project of the 10,000 Plants Genomes Project (10KP), AfricaBP is a coordinated effort to build capacity and infrastructure to generate, analyze and deploy genomics data for the improvement and sustainable use of biodiversity and agriculture across Africa. Currently involving a total of 109 African scientists (87 of whom working in Africa) and 22 African organizations, it aims to sequence the genomes of 105,000 endemic species, ranging from plants, to animals, fungi, protists, and other eukaryotes.
"We are proud to see MGI's core technologies empowering the team at the South African Medical Research Council (SAMRC) in sequencing the very first plant species for AfricaBP," said Dr. Yong Hou, General Manager of MGI Europe and Africa. "This was the first time our efficient and unique stLFR technology has been deployed in Africa, and we look forward to benefitting more scientists and researchers in the region and advancing the local field of genomics with our end-to-end products and offerings."
"Plant genomics is an increasingly important area of science that has expanded in recent years along with the development of advanced technologies and methods, and it has been playing a crucial role in plant biodiversity," said Professor Craig Kinnear, Director of the SAMRC Genomics Platform. "Thanks to MGI's innovative tools and the South African Medical Research Council's support, we are another step closer to a store of reference plant and animal genomes that is built in Africa, for Africa."
As part of AfricaBP, MGI's state-of-the-art sequencing technologies are empowering African researchers and policymakers from genomics, bioinformatics, biodiversity, and agriculture to produce high-quality reference genomes for an array of endemic African species. The endeavor will help plant and animal breeders to produce more resilient and sustainable food systems. In addition, it will improve public health, strengthen agriculture, and inform biodiversity conservation across the continent.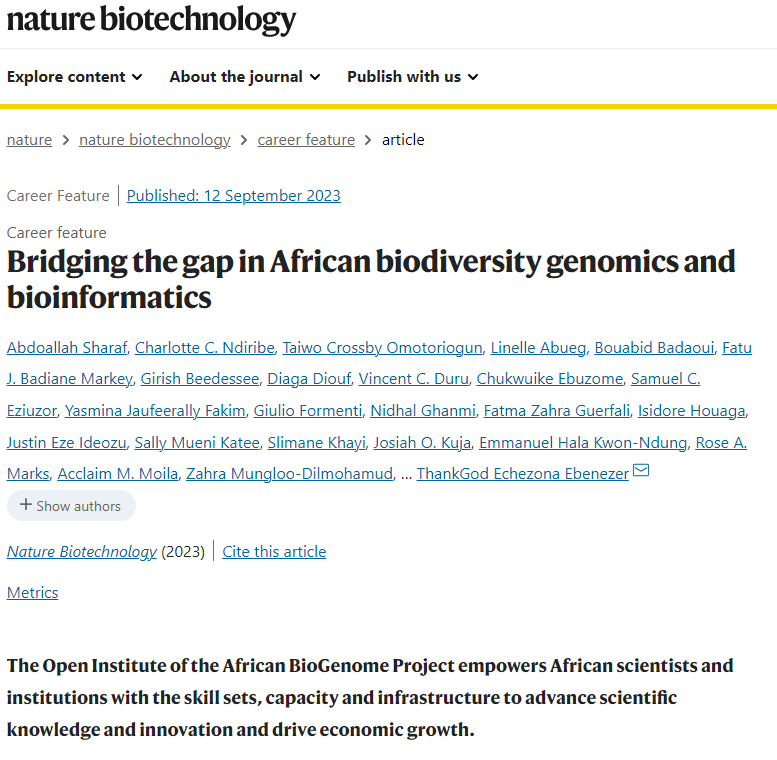 Recently, AfricaBP reported the successful implementation of the Open Institute in Nature Biotechnology, a pioneering genomic and bioinformatics knowledge exchange platform. The Open Institute's framework establishes openly accessible workshops across Africa, crafted in close collaborations with local African Institutions with the primary objective to develop biodiversity genomics and bioinformatics curricula and foster grassroots knowledge exchange that revolves around the requirements of African scientists. From the August 21-25, MGI was proud to be one of the main sponsors at the AfricaBP Southern Africa Open Institute Workshop for Genomics and Bioinformatics 2023, and one of the key workshop holders to showcase MGI's innovative stLFR and DNBSeq technology to produce high-quality reference genomes at the Agriculture Research Council Biotechnology Platform in Pretoria, South Africa. During October 9-10, MGI will also be involved in North Africa workshop of the AfricaBP Open Institute in Morocco.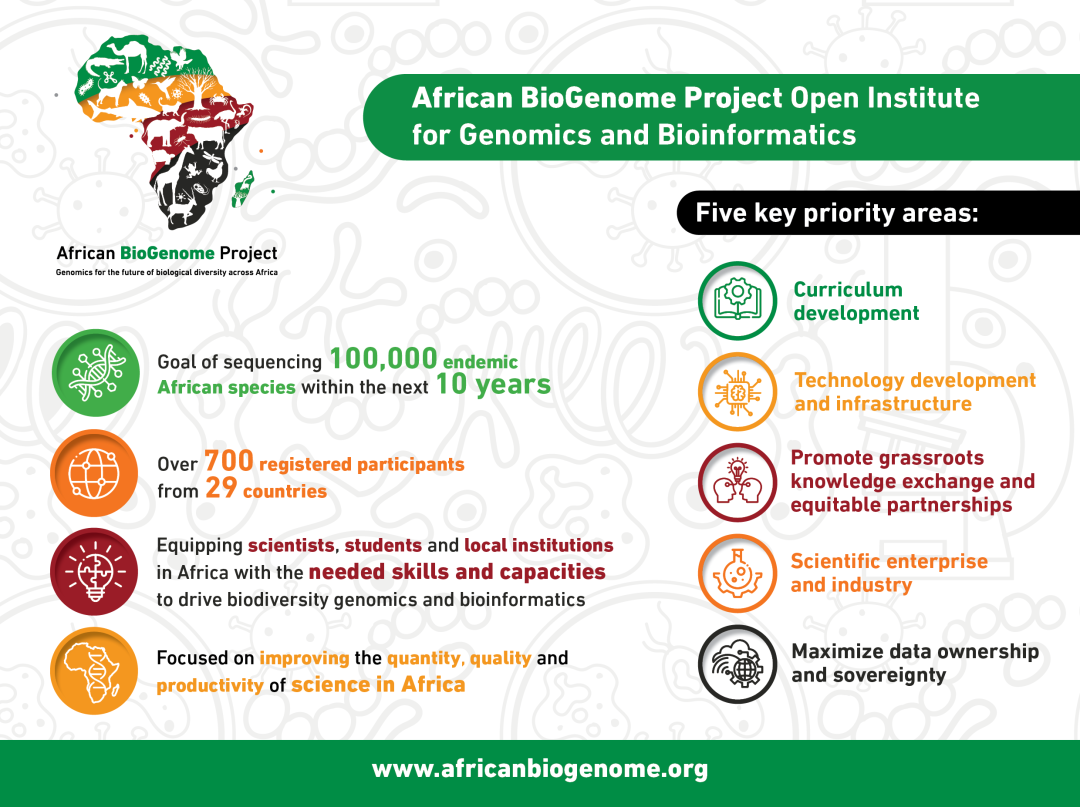 "One of the major significance of the AfricaBP Open Institute for Genomics and Bioinformatics is its timeliness at a moment when the African Continental Free Trade Area (AfCTA) agreement is already in effect. Through such a knowledge exchange platform, there is an economic case and justification for organizations, African national science agencies, local and international partners, to support this effort which keeps Africa in the right track for a federated genomic and bioinformatics infrastructure that will contribute to Africa's bioeconomy", said Dr. ThankGod Echezona Ebenezer, Founder and Co-Chair, African BioGenome Project, and a Bioinformatician at the University of Cambridge School of Clinical Medicine, UK.
MGI's innovative stLFR is based on patented DNA co-barcoding technology to provide synthetic or linked long reads on its proprietary DNBSEQ™ platforms. The stLFR Library Prep Kit, which was launched in 2023 at the Advances in Genome Biology and Technology meeting, overcomes the limitations of short read lengths and facilitates high-quality small and large structural variant calling, haplotype phasing of over 99% of the human genome, de novo assembly, and other long fragment applications. Combined with PCR-free high-throughput sequencing, it introduces a new standard for both research and clinical scenarios by enabling more complete and more accurate haplotype-phased genomes at an affordable price.To date, more than 50 high-quality articles have been published based on stLFR technology, including Nucleic Acids Research, Nature Ecology & Evolution, Genome Research and other top journals.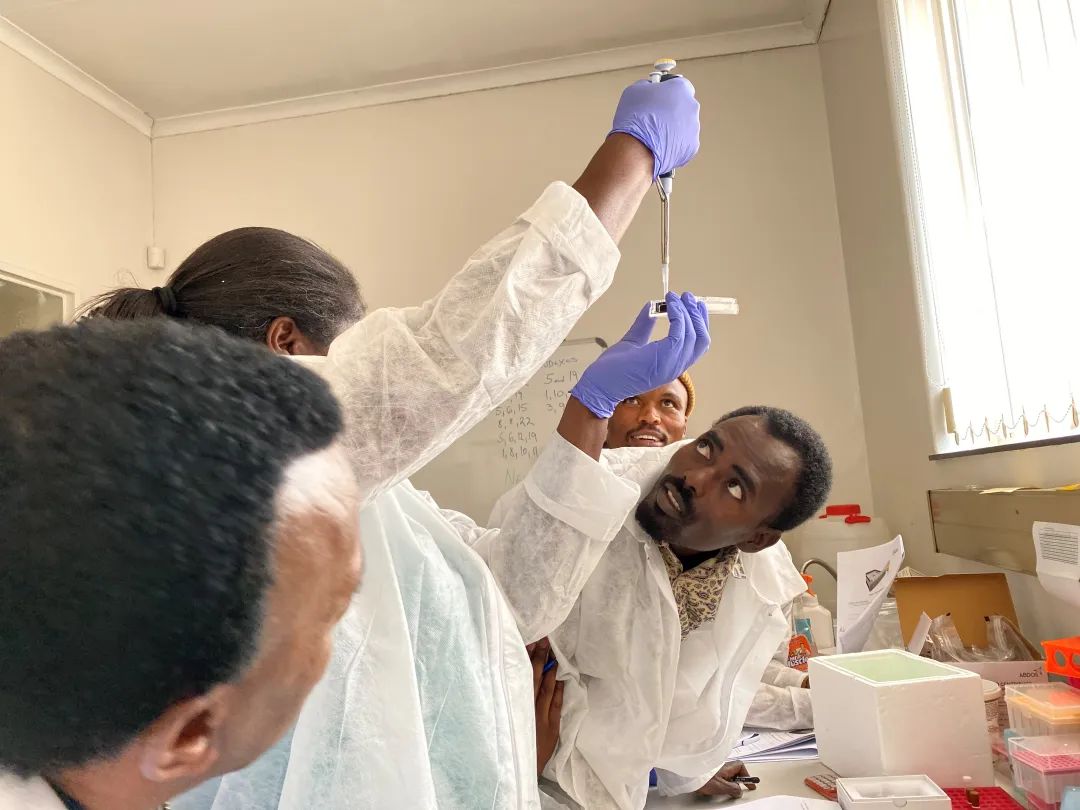 At the symposiums sessions of the AfricaBP Southern Africa Open Institute Workshop, Dr Mmatshepho Phasha-Muchemenye and Raksha Toolsi presented on "MGI's single tube Long Read Fragment (stLFR) technology" during the Genomic Technologies Session, and "Overview of Genome Sequencing Practical Exercise with MGI-Tech DNBSEQ-G400*" during the Practical exercises introductions sessions respectively.
MGI's long-term partnership with SAMRC can be dated back to 2019, during which the latter established the African Genomics Center in Cape Town, the first high-throughput genome sequencing center in Africa, with help and support from MGI. During the pandemic, MGI's ATOPlex technology, DNBSEQ-G50 and MGISP-100 also assisted researchers from SAMRC in screening and managing COVID-19 hotspots and circulating variants in wastewater samples, which later resulted in the Omicron variant being detected in Cape Town's wastewater system for the first time.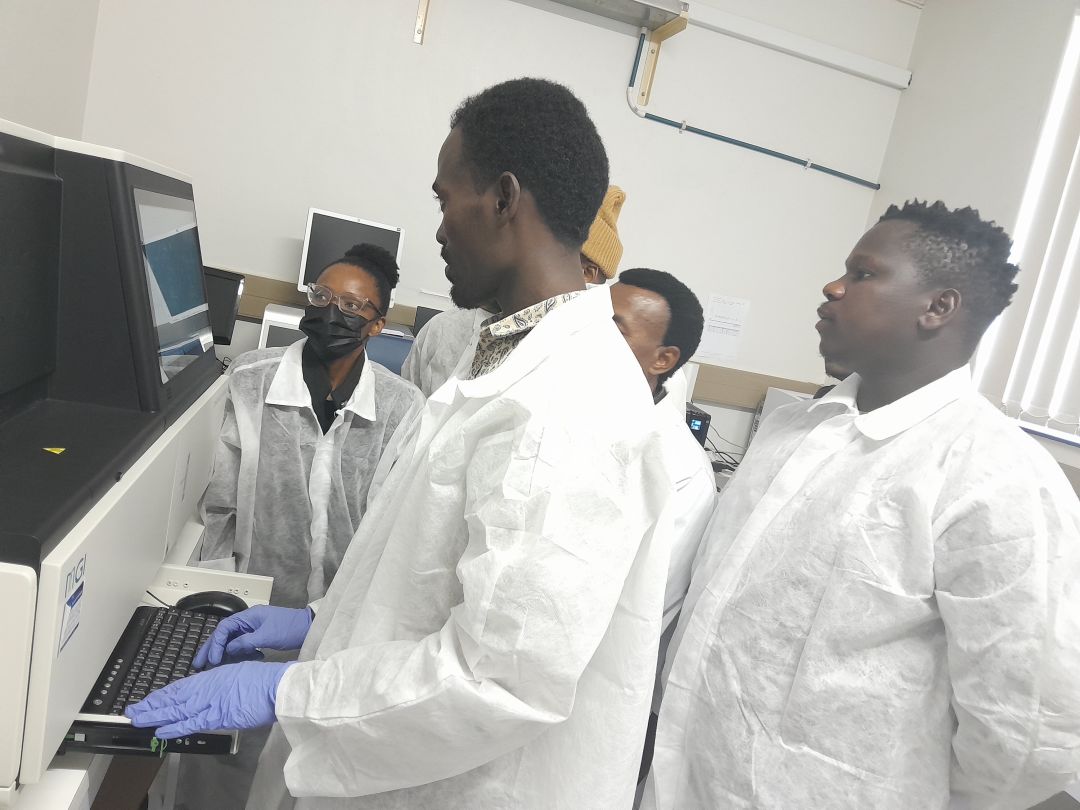 About MGI
MGI Tech Co., Ltd. (or its affiliates, "MGI"), headquartered in Shenzhen, is committed to building core tools and technology to lead life science through intelligent innovation. Based on its proprietary technology, MGI focuses on research & development, production, and sales of sequencing instruments*, reagents*, and related products to support life science research, agriculture, precision medicine and healthcare. As of June 30, 2023, MGI has more than 2,800 employees, and 35.2% of whom are R&D personnel. Founded in 2016, MGI operates in more than 90 countries and regions, serving more than 2,400 customers. For more information, please visit the MGI website or connect on Twitter, LinkedIn or YouTube.
*Products are provided for Research Use Only. Not for use in diagnostic procedures (except as specifically noted)