SHIJIAZHUANG, CHINA January 6, 2020 -- In order to quickly respond to the outbreak in Hebei, MGI deployed Fast Setup Modular Negative Pressure Lab (MGIFLP-HWRS) to Shijiazhuang overnight, and gathered nearly 100 volunteers from Shenzhen, Wuhan, Qingdao, Beijing and Changchun to support Hebei.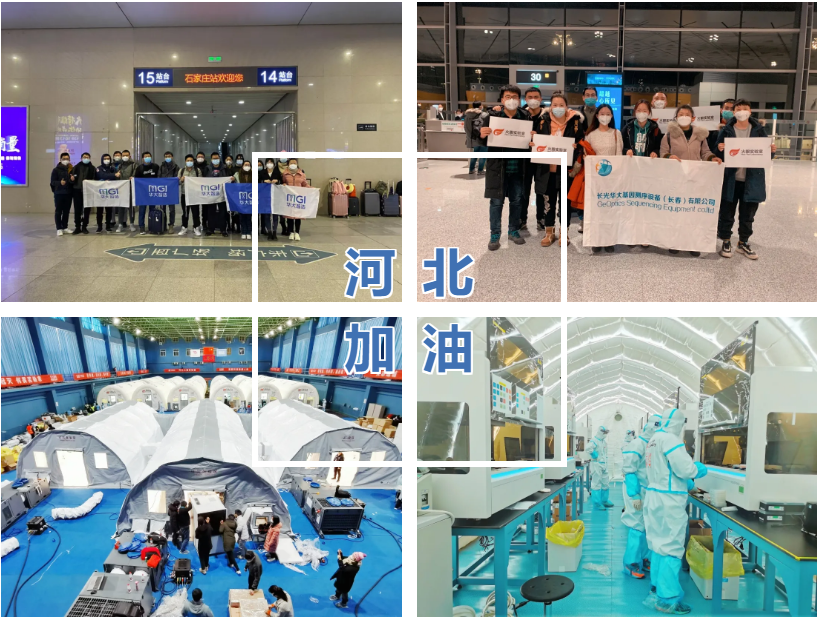 MGI first introduced its high-throughput automated nucleic acid extractor, MGISP-NE384 to further improve daily testing capacity in Hebei. At present, MGISP-NE384 has been successfully put into operation in Shijiazhuang Huo-Yan Lab. One single unit can process 10,000 samples per day, and the daily testing capacity of 10 units can reach up to 1 million if 10 samples mixed in one tube. Powered together by MGISP-NE384, MGISP-960 and MGISTP-7000, this upgraded ultra-high throughput nucleic acid testing laboratory will further scale up the testing capacity to support the outbreak control in Hebei.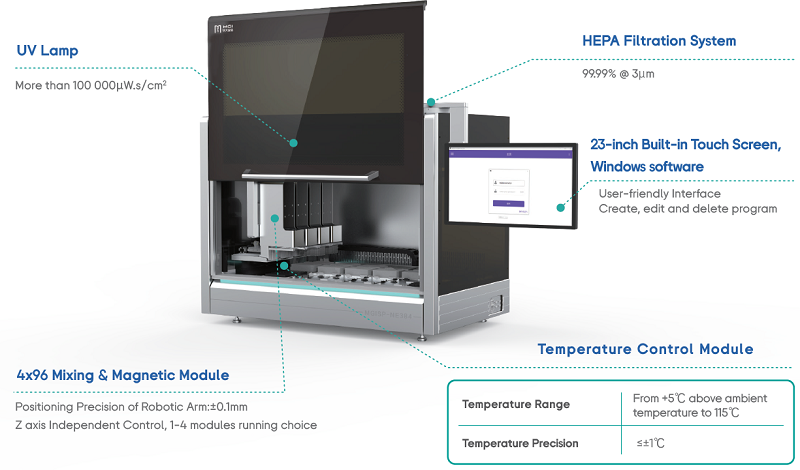 MGI's High-throughput Automated Nucleic Acid Extractor, MGISP-NE384
High throughput and high efficiency
The MGISP-NE384 can process 10000 samples a day
MGISP-NE384 is a high-throughput automated nucleic acid extractor, using the magnetic rod technology. Together with nucleic acid extraction kit, MGISP-NE384 can extract and purify nucleic acid from 96/192/288/384 samples. HEPA filtration system and UV lamp ensure a safe working environment for nucleic acid extraction and lab technicians. As the first fully automated nucleic acid extractor in the market being utilized on the front line of COVID-19 fight, one MGISP-NE384 can process 10,000 samples per day.
1. Flexible
Mixing and magnetic module Z axis independent control, 1-4 modules running choice for 96/192/288/384 samples.
2. Safe
HEPA filtration system and UV lamp, ISO Class 5, avoiding cross-contamination and ensuring a safe working environment.
3. Efficient
Moving and processing magnetic particles, extracting and purifying nucleic acid from 384 samples.
4.Stable
Reliable hardware design, 96-well plate reagent and disposable tip, minimizing operational errors.
"At Wuhan Huo-Yan Lab, MGI launched its first MGISP-960 to ensure the daily viral nucleic acid testing capacity in Wuhan. As the coronavirus spreads across the world, we have developed various packages to meet the requirements different application scenarios and testing capacity. In Beijing Daxing Huo-Yan Lab, MGISTP-7000 was officially put into operation, further increasing the daily testing capacity!" Said Liu Jian, Executive Vice President of MGI. "Powered by the MGISP-NE384, we can scale up the testing capacity to meet the large-scale population testing for local epidemic outbreak. We will continue to provide more solutions with China's hardcore technology and professional frontline experience for the global epidemic prevention and control. "
Three powerful equipment work together to
achieve daily testing capacity up to 1 million samples
With the support of MGISP-NE384, MGI can further optimize and accelerate the entire nucleic acid testing laboratory testing process. The MGISTP-7000 sample plate can be seamlessly connected with MGISP-960 nucleic acid extraction instrument and MGI ZLIMS system for sample management. It can provide automatic management of the whole process from barcode identification, sample dispatch, nucleic acid extraction, and fluorescence quantitative PCR testing to report distribution. It will greatly relieve the pressure of space, time and personnel in the testing laboratories.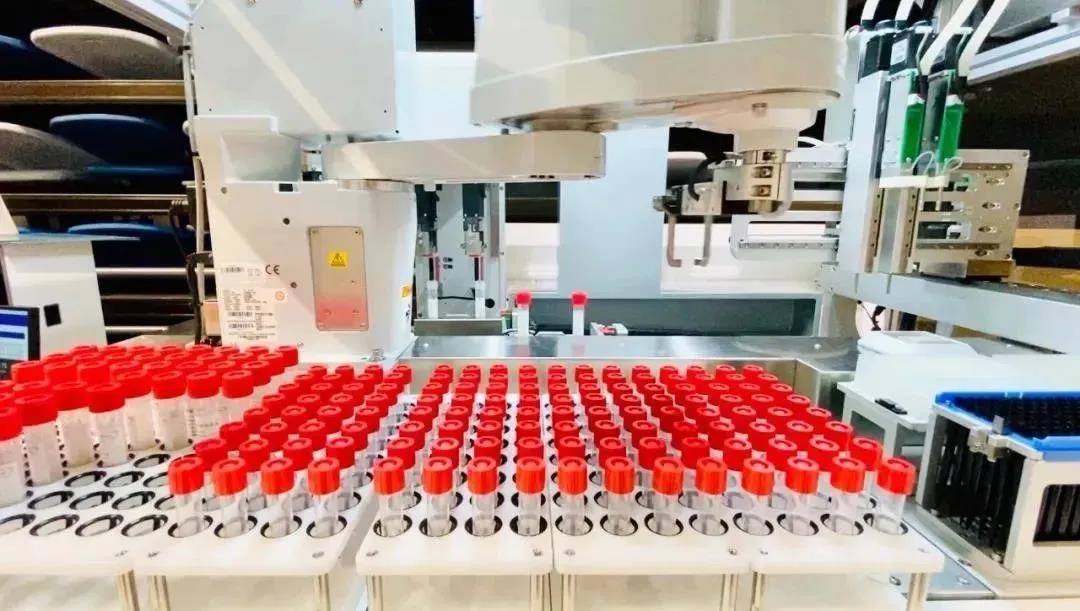 MGISTP-7000, the high-throughput automated sample transfer processing system is processing samples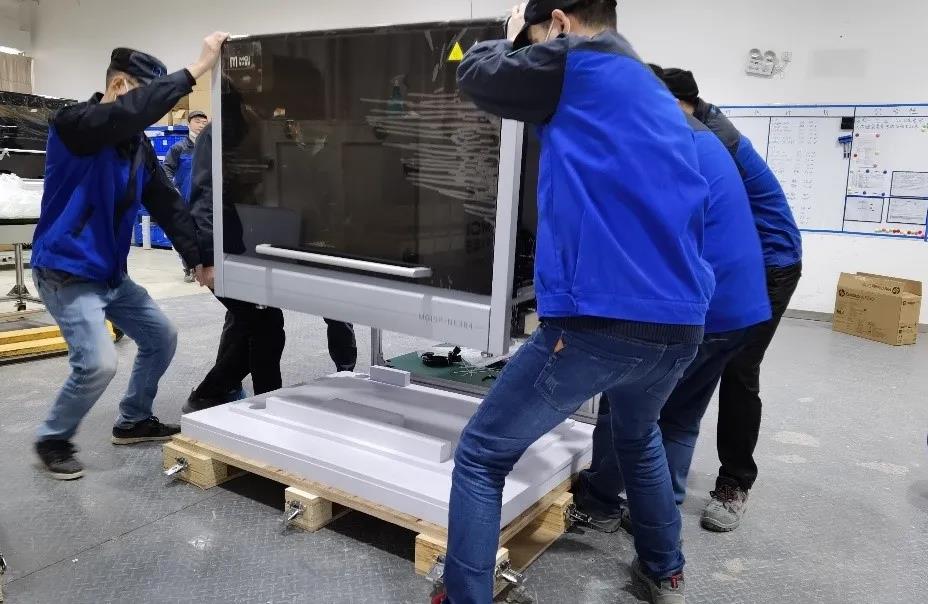 MGISP-NE384 was delivered from Wuhan to Shijiazhuang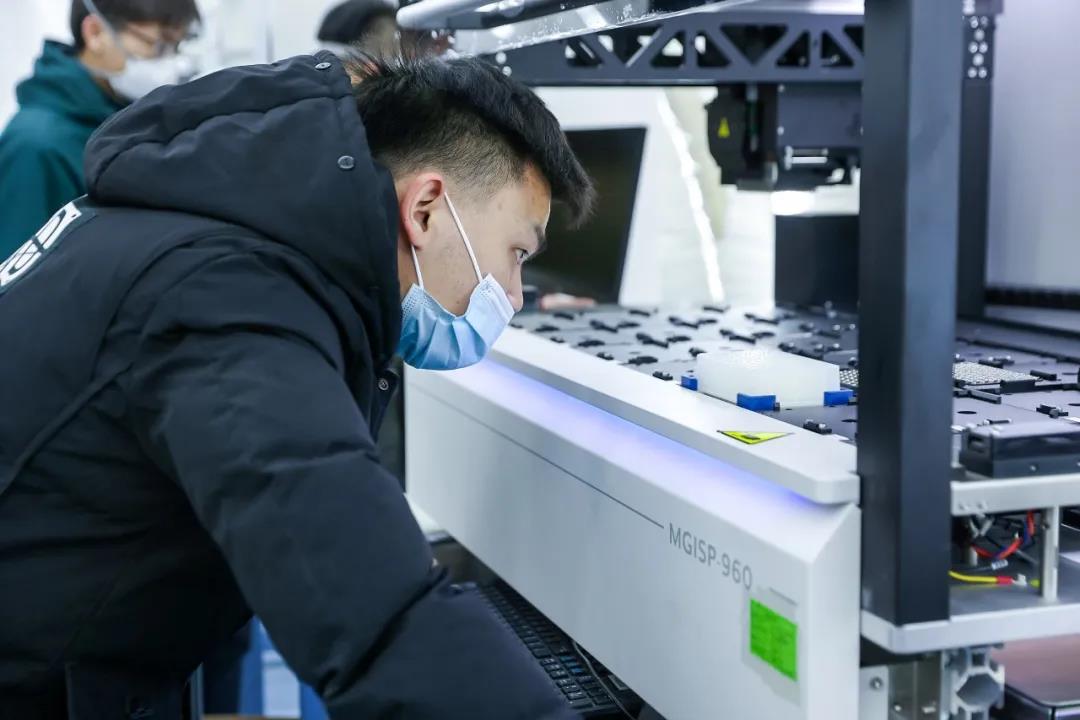 The lab technician is operating the MGISP-960
MGISP-NE384 high-throughput automated nucleic acid extractor has received the EU CE-IVD certificate and China's NMPA certification. With its core advantages of high throughput and efficiency, MGISP-NE384 will bring more powerful support to the fight against the COVID-19 in Hebei! It will benefit the COVID-19 prevention and control in winter and spring.