On December 20th, 2021, MGI and signed a strategic cooperation agreement with Beijing Anngeen Technology (Anngeen) in Beijing. Under the agreement, MGI and the Anngeen will cooperate on the research and development (R&D) of genetic detection products for cardiovascular diseases based on DNBSEQ-400 gene sequencer* and promote access to individualized diagnosis and treatment programs of cardiovascular diseases in the hospitals to benefit more patients with inherited cardiovascular diseases.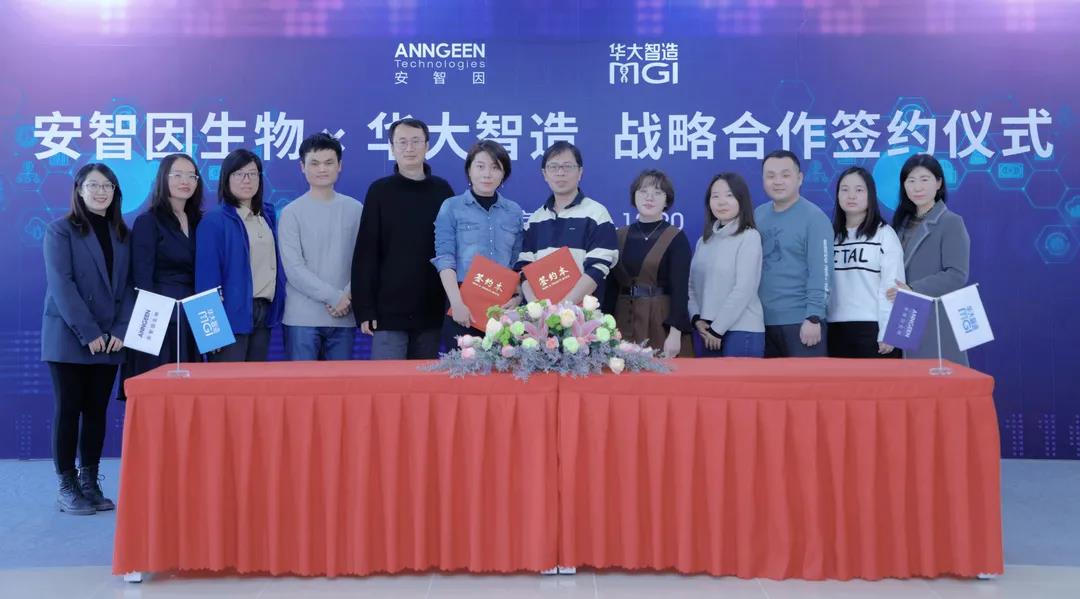 Anngeen will also develop whole-exome sequencing diagnostic products for hereditary nephropathy, hereditary tumors, and hematological diseases, on DNBSEQ-400 gene sequencer* to fully promote the application and clinical transformation of high-throughput sequencing technology in detection of hereditary diseases.
High-throughput sequencing technology enables accurate detection of cardiovascular diseases
According to the statistics, there are as many as 330 million people with cardiovascular diseases in China, including approximately 40 million patients with monogenic cardiovascular diseases that are often difficult to diagnose based on just clinical symptoms.
It is of great significance to use appropriate methods for early and accurate diagnosis of hereditary cardiovascular diseases. Based on MGI proprietary DNBSEQTM technology, DNBSEQ-G400* is a comprehensive and flexible production-scale sequencer that supports multi-sequencing modes with increased accuracy, decreased duplicates and reduced index hopping. Excellent performance makes DNBSEQ-G400* a competitive platform for accurate early diagnosis and differential diagnosis of monogenic cardiovascular disease patients and their relatives.
MGI and Anngeen join forces to promote industrial ecological innovation
"We are proud to partner with Anngeen on this important strategic initiative aimed at improving people's health. Cardiovascular genetic testing market is expected to gain market growth in the foreseeable future. We look forward to developing more high-quality clinical testing products in cooperation with Anngeen to benefit more patients with genetic diseases." Said Fang Xiao, General Manager Greater China at MGI.
"We are committed to improving cardiovascular health and helping reduce CVD risk at the population and individual level through early diagnosis, early screening and accurate diagnosis and treatment. To this end, our two parties will carry out in-depth cooperation in accurate diagnosis and treatment of genetic diseases, and jointly promote the development of a one-stop platform for genetic diseases testing to provide more solutions for customers to benefit more patients." Said Zhou Yang, Founder of Anngeen.
About Anngeen
Founded in 2014, Anngeen is a leading provider of one-stop solutions for accurate diagnosis and treatment of cardiovascular diseases in China. Anngeen is committed to the transformation of scientific & technological achievements and technical applications in genomics with its competent core expert team in genomics and bioinformatics. Anngeen has developed an extensive product portfolio in cardiovascular disease gene detection ranging from integrated diagnosis, early screening of serious diseases to health risk warnings, to provide high-quality healthcare solutions for people with chronic diseases, health risks and hereditary cardiovascular diseases.
*Unless otherwise informed, all sequencers and sequencing reagents are not available in Germany, USA, Spain, UK, Hong Kong, Sweden, Belgium and Italy.