Dubai, United Arab Emirates, 30 January 2022 — MGI Tech Co., Ltd. ("MGI"), a company committed to building core tools and technology to lead life science, will introduce multiple of its latest gene sequencing platforms and sample preparation system at MEDLAB Middle East 2023, taking place 6-9 February in Dubai. Ahead of the event, MGI will host a demonstration of the innovative robotic ultrasound system MGIUS-R3 at Arab Health, taking place from today until 2 February also in Dubai.
"We are excited to launch three new products at MEDLAB Middle East, including DNBSEQ-G99*, our latest model of gene sequencer* with mid to low range throughput, DNBSEQ-E25, a portable sequencer with very low throughput, as well as DNBelab-D4 digital sample preparation system. In addition, our MGISP-100 automated sample preparation system will be on display for visitors interested to learn more," said Dr. Roy Tan, General Manager of MGI Asia Pacific. "Once again, MGI showcases the commitment to supporting healthcare, scientific research and applications across the Middle East through our genomic technologies."
As one of the sequencers* with the fastest speed among those with the same throughput in the world, DNBSEQ-G99* is developed based on MGI's core DNBSEQTM sequencing technology. It for the first time adopts triangular matrix signal spots on sequencing flow cell, among other innovations in biochemistry, optics, fluidics, temperature control and more, reaching higher density of data output, with an overall throughput of 8-48 Gb per run. DNBSEQ-G99* is especially suitable for targeted gene sequencing and small genome sequencing, requiring only 12 hours to finish PE150 sequencing.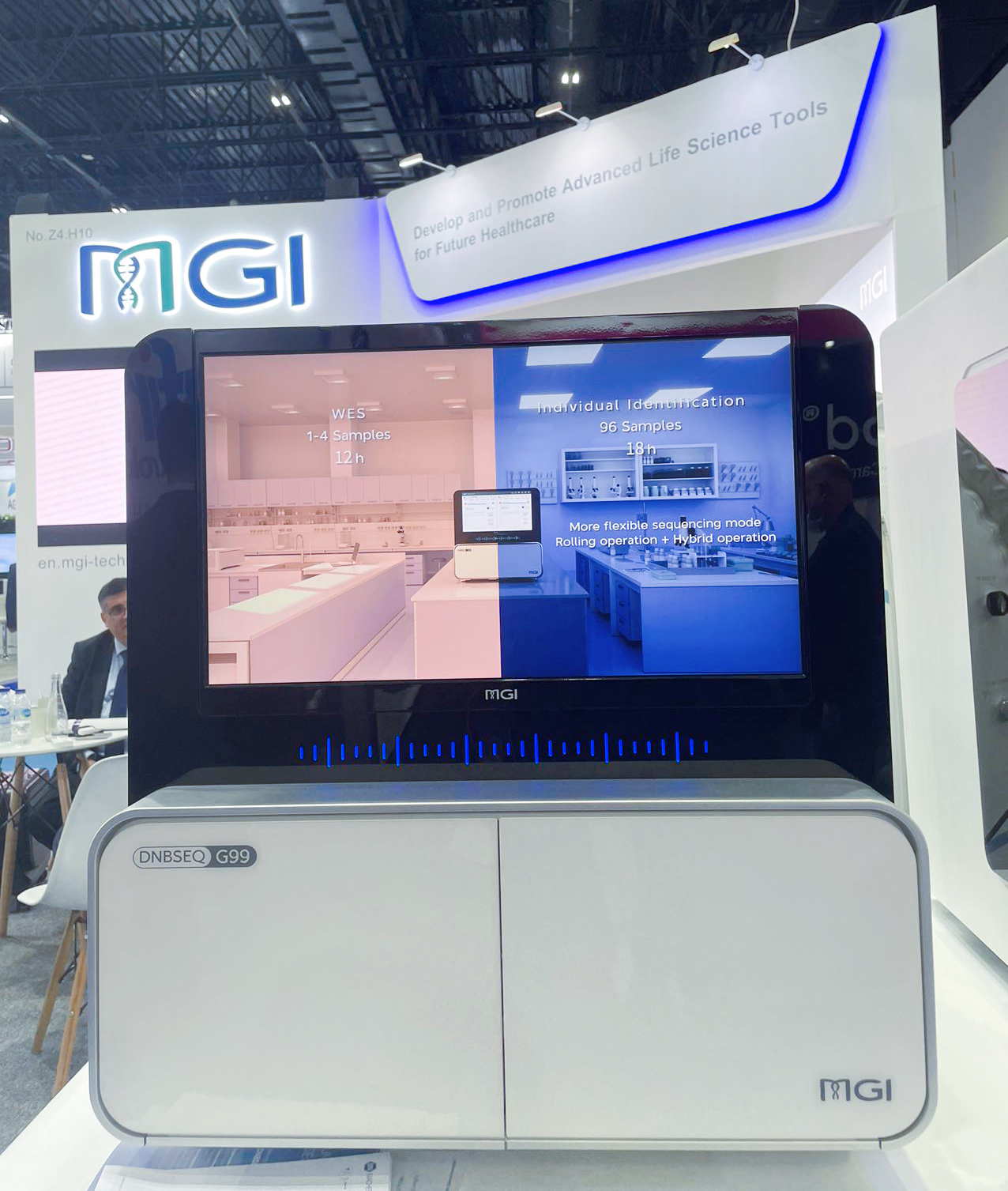 DNBSEQ-E25*, the flagship product in the E-series, is a portable, accessible, and user-friendly sequencer that features a data throughput of up to 7.5G daily. Built on the newly designed self-luminous biochemical system, DNBSEQ-E25* has upgraded its sequencing system, flowcells and sequencing cartridge. Equipped with built-in bioinformatics, it is designed to run sequencing and generate analysis reports on the go. Its ease of setup means it is ready to run in ten minutes, coupled by a quick turnaround time that takes only 20 hours from sample to FASTQ data.
Lastly, DNBelab-D4 is the first digital microfluidic automation platform developed by MGI. The portable digital sample preparation system can prepare samples from DNA to DNB on a single sample prep card. Meanwhile, it integrates the quantification function for automatic quantification after DNB preparation is completed, eliminating the need for manual quantification. Currently, DNBelab-D4 is mainly used for library preparation for high-throughput sequencing applications such as metagenomics sequencing of unknown pathogens. It can also cater to the requirements of different research and medical applications.
In addition to MEDLAB Middle East, MGI today joins healthcare industry leaders and stakeholders at Arab Health and showcases the robotic ultrasound system MGIUS-R3. Tele-robotic ultrasound is the key tool and up to date technology for traditional ultrasound applying in tele-medicine, enabling patients to enjoy the ultrasound screening service over distance. It played a crucial role in helping front line hospital doctors conduct remote diagnosis during the COVID-19 pandemic and be widely applied among both tele-diagnosis and tele-education.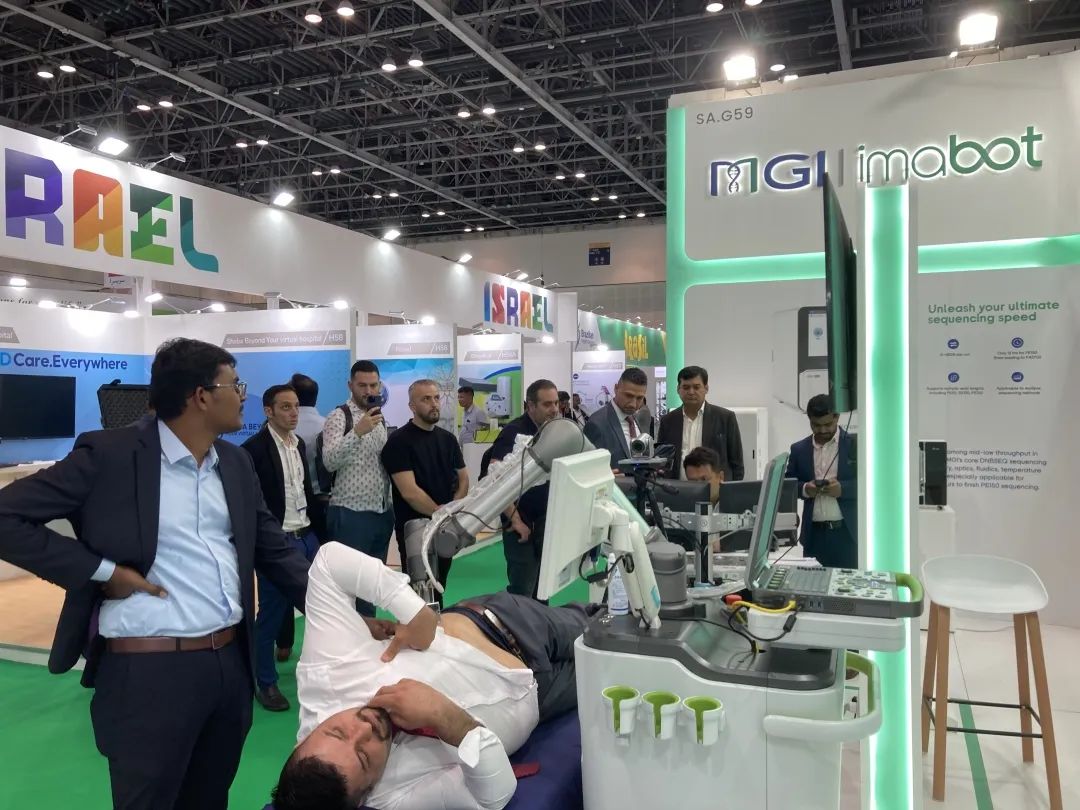 MGI representatives will be present at Arab Health until 2 February and MEDLAB Middle East between 6-9 February. Those interested in learning more are encouraged to visit MGI's product display and explore how its latest platforms can accommodate various genomic needs.
About MGI
MGI Tech Co. Ltd. (MGI), headquartered in Shenzhen, is committed to building core tools and technology to lead life science through intelligent innovation. Based on its proprietary technology, MGI focuses on research & development, production and sales of sequencing instruments, reagents, and related products to support life science research, agriculture, precision medicine and healthcare. MGI is a leading producer of clinical high-throughput gene sequencers*, and its multi-omics platforms include genetic sequencing*, medical imaging, and laboratory automation. MGI's mission is to develop and promote advanced life science tools for future healthcare. For more information, please visit MGI's website or connect with us on Twitter, LinkedIn or YouTube.
Unless otherwise informed, StandardMPS and CoolMPS sequencing reagents, and sequencers for use with such reagents are not available in Germany, Spain, UK, Sweden, Belgium, Italy, Finland, Czech Republic, Switzerland, Portugal, Austria and Romania. Unless otherwise informed, StandardMPS sequencing reagents, and sequencers for use with such reagents are not available in Hong Kong.