CHONGQING, CHINA, March 28, 2021 -- MGI present a full range of new laboratory automation products at the 18th China Association of Clinical Laboratory Practice Expo (CACLP 2021) held March 28-30 in Chongqing. MGI's innovative automation systems include automated sample transfer processing system MGISTP series, automated nucleic acid extractor MGISP-NE series, automated sample preparation system MGISP series, automated one-stop modular sequencing workstation MGIFLP series, automated production line MGIGLAB series, and the intelligent laboratory management system MGI ZLIMS.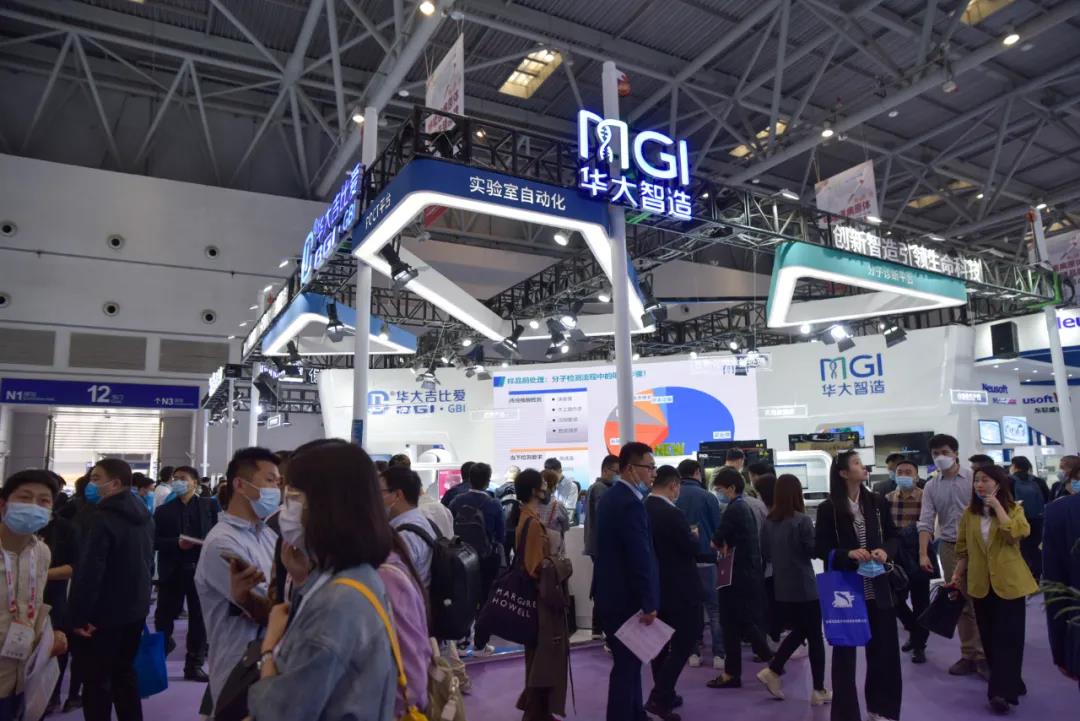 01
MGISTP series can process a single sample in 15-25 seconds.
MGI's proprietary automated sample transfer processing systems MGISTP-7000 and MGISTP-3000 have obtained the National Medical Products Administration (NMPA) qualifications. The systems are designed for nucleic acid testing or coronavirus detection in the COVID-19 pandemic. It can transfer 192 samples from airtight sample tubes or plain tubes to 96-well microplates in 40 minutes, decreasing monotonous sample preparation steps and the workload of lab technicians.
Two models can meet different testing need. MGISTP-7000, equipped with 6 sample loading plates, can load 192 tubes at maximum capacity. It only takes 15 seconds to process one single tube. MGISTP-3000, equipped with 3 sample loading plates, can support three tube types (5-15ml) to load samples at the same time. The maximum loading volume is 32*3=96 tubes, and the average processing time of one single tube is about 25 seconds. Both can be seamlessly connected to any automated extraction system in the workflow.
02
MGISP-NE series can extract and purify nucleic acid from 32 samples in 9 mins.
MGISP-NE series, focusing on nucleic acid extraction and purification, combined with MGI's rapid extraction reagents, can effectively extract viral DNA and RNA from swab samples. MGISP-NE32, small in size and fast in speed, can process 1-32 samples in 9 minutes. MGISP-NE384 can process 96/192/288/384 samples in 20 minutes, and the capacity of a single unit is 4 times higher than conventional nucleic acid extractors. The systems and extraction reagents have been approved by NMPA, and have been widely used in MGI's contribution to the global fight against pandemic.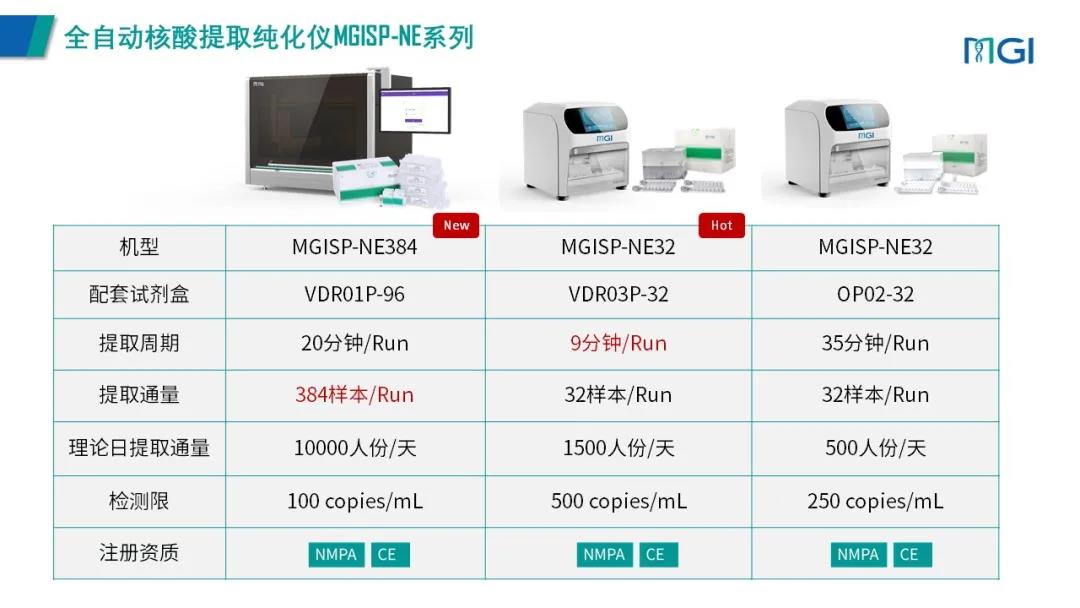 03
MGISP Series library preparation and nucleic acid extraction
As the world's first NMPA-certified automated sample preparation systems, MGISP series, MGISP-100 and MGISP-960, are developed to solve the operational complexity of library preparation for high-throughput sequencing. Since the initial R&D in 2015, the series are officially launched in 2017. It can automatically complete the process including nucleic acid extraction, magnetic purification, PCR, hybridization capture, and DNB preparation. It is a very flexible and widely used automated sample preparation system, and compatible with the mainstream library preparation reagents in the market.
Based on the excellent performance and extensive frontline experience, MGISP series are currently ones of the very few in the market that can be connected to PCR platform to complete nucleic acid extraction and sequencing library preparation. Complex samples may need additional processing. MGISP-100 can process 16 samples per run and is suitable for hospitals and disease control units. MGISP-960 can complete 96 samples per run and is suitable for sequencing service companies supporting sample batch process for customized research and development.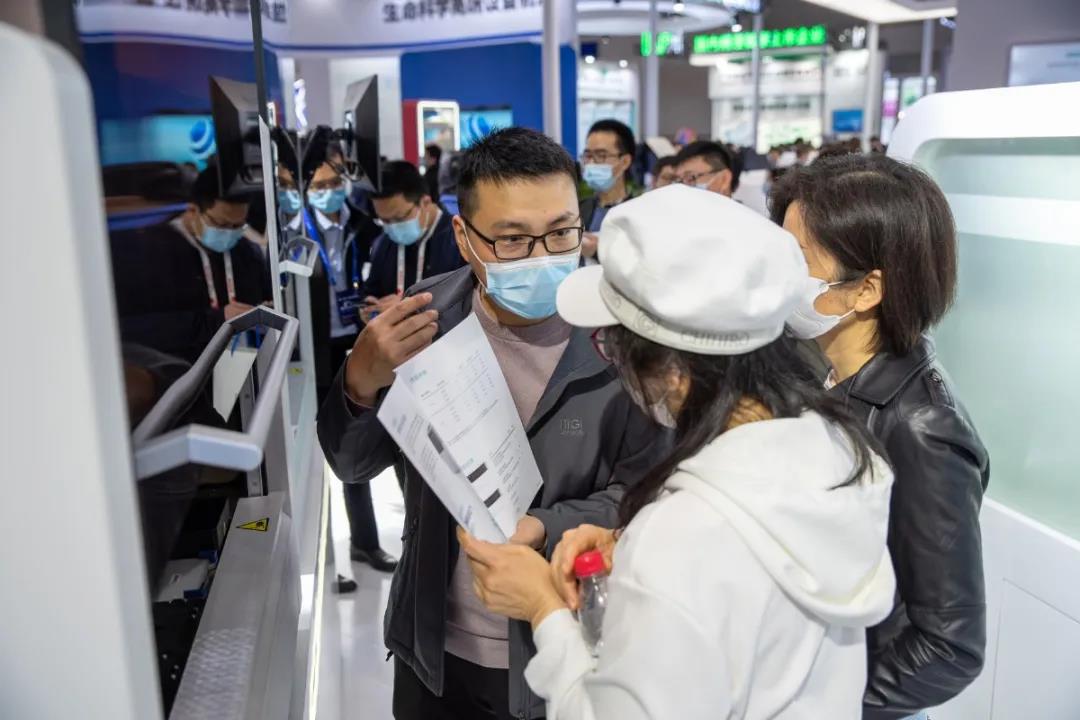 MGISP-100 and MGISP-960 both can be seamlessly connected to high-throughput sequencers, MGISEQ-200 and MGISEQ-2000, to create a one-stop automated high-throughput sequencing laboratory.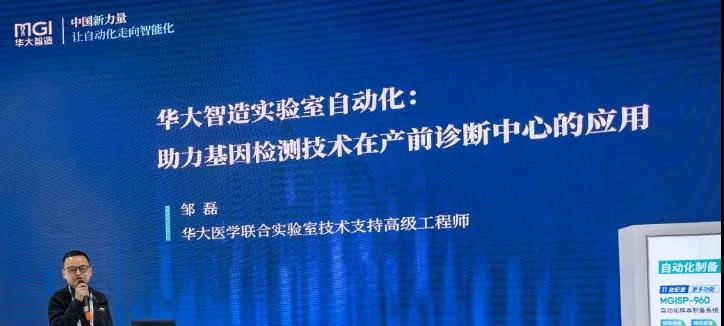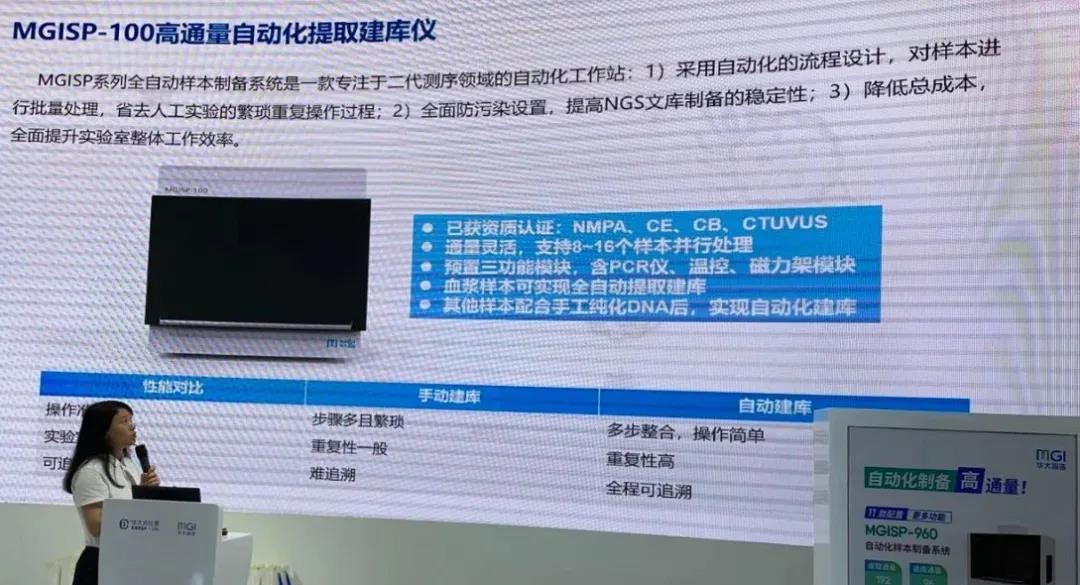 04
MGIFLP Series: Modular Design and Integration
A mini version of mobile nucleic acid testing vehicle is also showcased at the CACLP. The vehicle package has played an important role in the pandemic control. The vehicle is equipped with multiple automation equipment, including MGISTP series sample transfer processing system, MGISP series sample preparation system, MGISP-NE series automated nucleic acid extractor, and laboratory management system. MGI has launched a series of MGIFLP mobile modular pathology laboratory packages, including Nucleic Acid Testing Vehicle, Container Lab and Fast Setup Modular Negative Pressure Lab.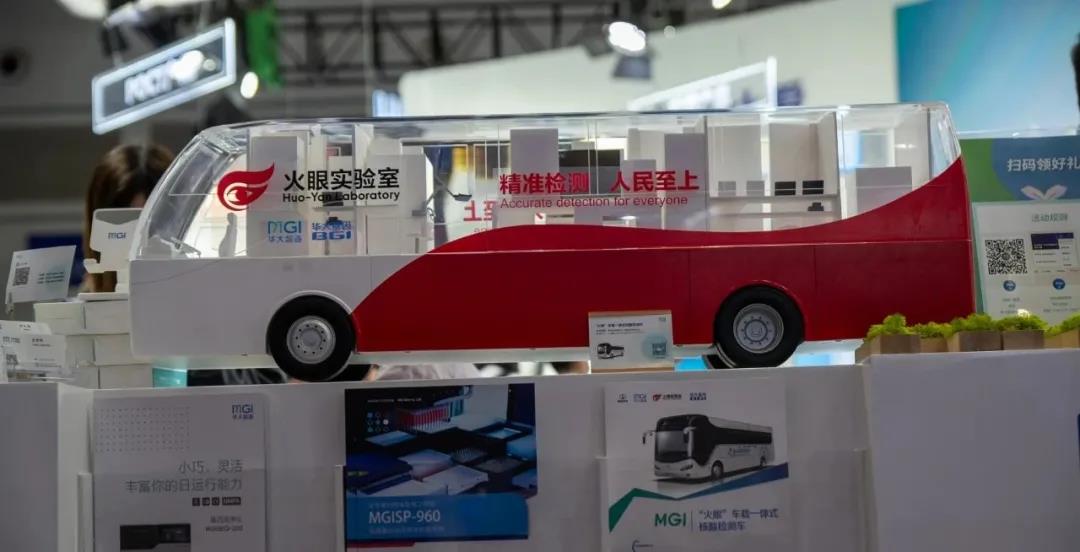 05
MGIGLAB Series: Automated NGS Library Preparation Production Line Processing Millions of Samples Annually
MGI also demonstrates another innovative product, MGIGLab-L, the world's first ultra-high throughput library preparation system. The streamlined-design platform integrates MGI's proprietary instruments and partner's automated robotics offering a complete NGS library preparation automation package for large scale projects. Annual capacity can reach up to one million samples. With high customizability the package can be integrated into high-throughput applications in molecular diagnostics.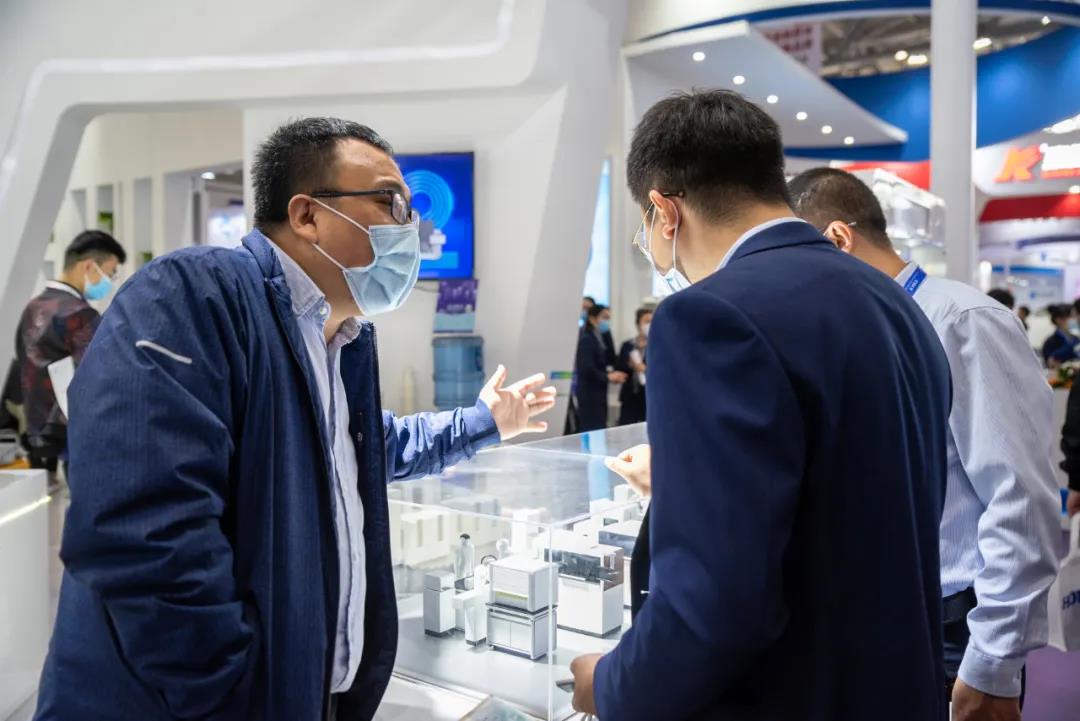 Special Recommendation
MGI Zlims 4-in-1 Intelligent Laboratory Information Management
MGI ZLIMS, an intelligent laboratory information management system, can integrate a variety of laboratory automation systems including sample transfer processing system, nucleic acid extractor, multiple PCR instruments and high-throughput sequencer.
The integrated management of laboratory automation and lab environment through a centralised information system can make the molecular diagnostic labs more intelligent covering 3 aspects of the laboratory management. (1) Laboratory environmental management, MGI ZLIMS can manage the lab infrastructure, including ventilation, water and electricity, personnel rights and laboratory security; (2) Laboratory Equipment Management, ZLIMS can monitor the working status of each instrument and manage all the instruments such as machine failure warnings and regular consumable replacement (3) Application Management, ZLIMS also has a smart phone APP version. The lab technicians can quickly enter sample information, query the instrument status, view reports, or perform other operations on the phone.