Singapore, September 15, 2023 – MGI Tech Singapore Pte, Ltd. ("MGI"), a company committed to building core tools and technology to lead life science, recently entered a research partnership with National Cancer Centre Singapore ("NCCS") to facilitate comprehensive, multi-dimensional genomic profiling of Asian-prevalent cancers using MGI's core DNBSEQ™ technology. The collaboration is one of many examples of MGI's efforts in empowering personalized medicine and precision oncology with its innovative genetic platforms.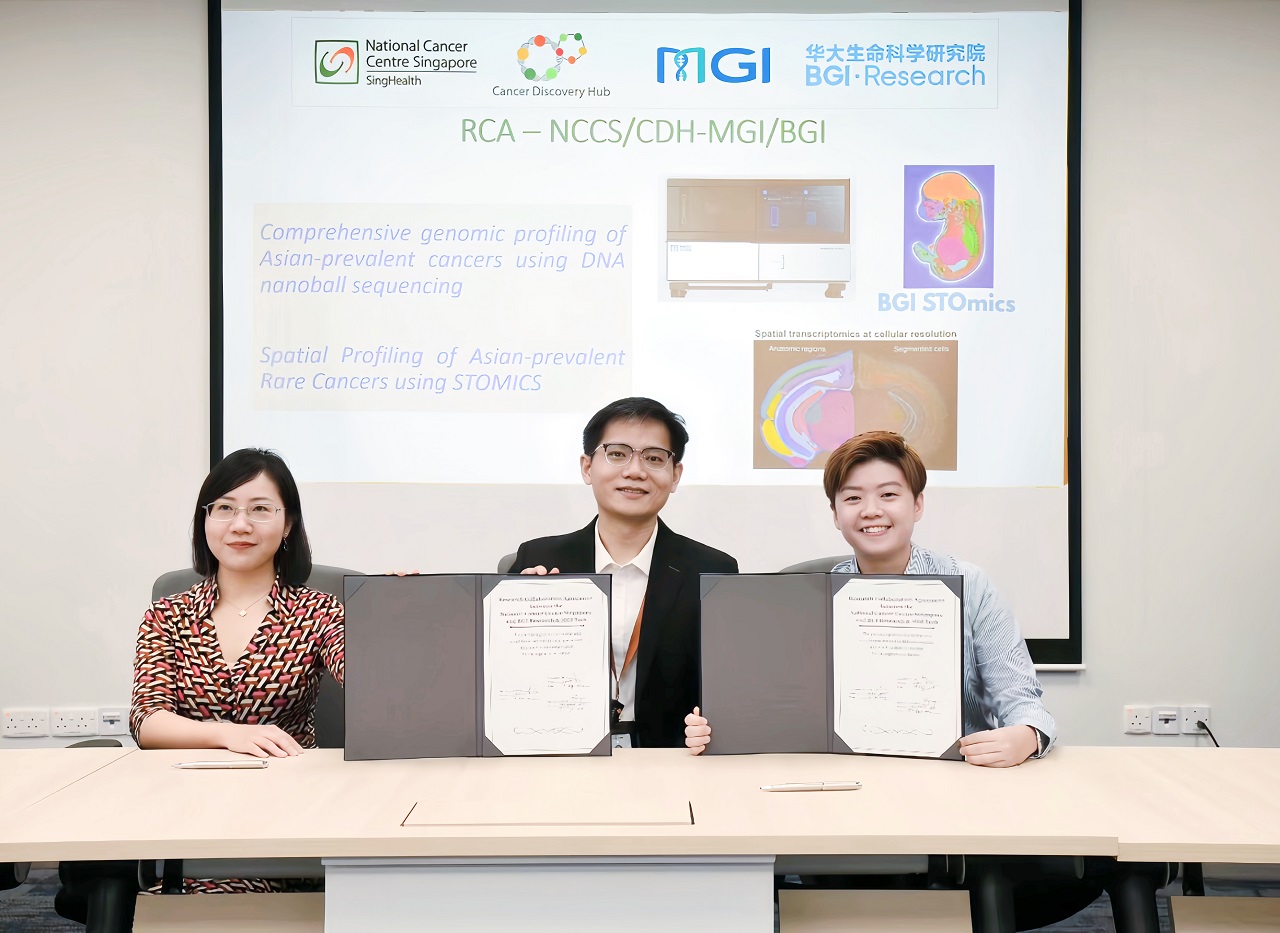 "We are excited to work with NCCS to uncover the unique molecular genomic composition of cancers prevalent in Asia by providing our DNBSEQ-G400 sequencer," said Dr. Roy Tan, General Manager of MGI Asia Pacific. "The implications of this partnership are huge. In the past, precision oncology has grown unevenly outside the United States and Western Europe. The vast pools of genomic data on which its precision medicine relies are scarce outside of Western populations. By developing a better understanding of underrepresented cancer types for different population, we look forward to empowering more precise prevention, diagnosis and treatment to improve patient outcomes and quality of life within the Asian community by providing MGI life science core tools."
Under the partnership, MGI's DNBSEQ-G400 sequencer has been set up at NCCS' Cancer Discovery Hub (CDH) for running RNA-seq samples. The versatile benchtop sequencer is built with a dual Flow Cell system that can flexibly support a variety of different sequencing modes. Thanks to optimized optical and biomedical systems, manual operation for whole genome sequencing is shortened to under 30 minutes from sample to report. With embedded data analysis software, it can complete PE150 sequencing at full capacity in 37 hours, providing users a highly efficient and streamlined end-to-end workflow for genomic sequencing.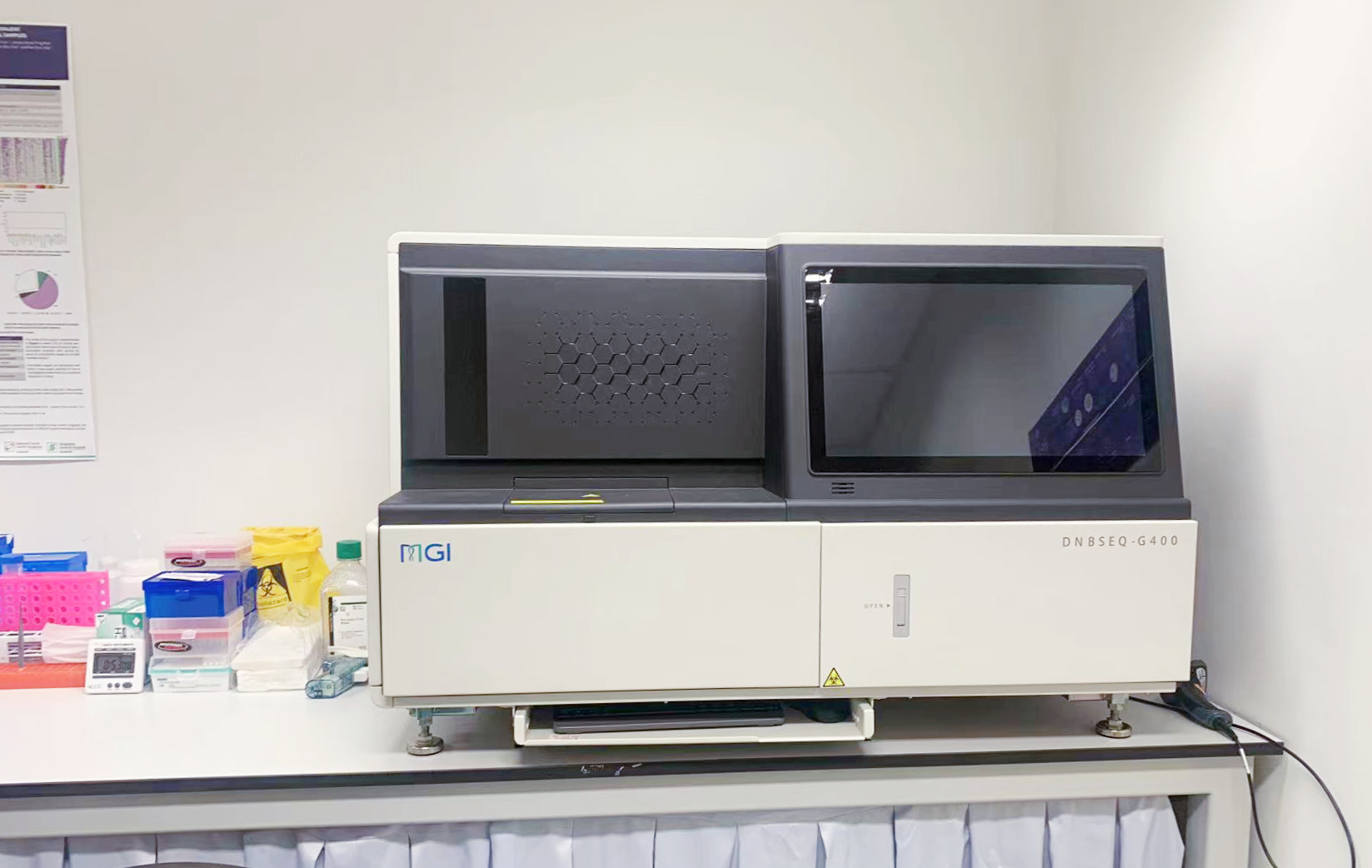 Relying on DNBSEQ technology, the somatic genomic landscape of selected Asian-prevalent cancers will be profiled, such as head and neck, ovary, breast, stomach, colon, liver, bile duct, cervix, lung, prostate, esophagus and phyllodes tumors, as well as Asian angiosarcomas, lymphoma, rare cancers, fibroepithelial tumors, and several tumor cell-lines. In addition, DNBSEQ will be included as part of the molecular assay catalogue of the Cancer Discovery Hub to enable cancer researchers in Singapore.
"Combining CDH's expertise in multi-omics molecular diagnostic and research with MGI's state-of-the-art high-throughput sequencing technologies, this collaboration will not only shed light on the mechanics and potential development of Asian-prevalent cancers, but also inform better ways of preventing, diagnosing and treating these cancers," said Dr. Jason Chan, Director of NCCS Cancer Discovery Hub. "Looking ahead, we will continue working with MGI and leveraging their cutting-edge technologies to advance our research on cancer therapeutics."
Earlier this year, NCCS published a research article on Nature about the topological immune landscapes of Asian head and neck angiosarcoma using MGI's DNBSEQ technology. Researchers successfully employed DNBSEQ to run WGS on FFPE samples. Specifically, all 50 libraries were sequenced, based on 100 bp paired-end reads, on MGI's ultra-fast, highly accurate DNBSEQ-T7 sequencer. By identifying the genomic, transcriptomic and immune landscapes of angiosarcomas from an Asian population, patients with angiosarcomas may enjoy improved and more precise treatment strategies.
Beyond this partnership, NCCS also intended to join the DCS Lab Initiative, MGI's first program aimed at facilitating large-scale leading multi-omics laboratories with MGI's products. Under the initiative, MGI will offer DNA sequencing, Cell omics and Spatial omics (so-called DCS lab) products combined with DNBSEQ technology for a wide array of applications to NCCS, which will help spurring critical oncology research contributing to better prevention, diagnostics, and treatment outcomes.
With low duplication rate and high data utilization rate, MGI's DNBSEQ has demonstrated great value in high-depth sequencing and analysis of low-concentration oncology samples or those of high complexity, such as peripheral blood and circulating tumor DNA. In the past, DNBSEQ-based platforms have enabled clinicians and researchers to conduct clinical diagnosis and research, accurately and effectively informing precision cancer medicine for each patient based on the specific genetic makeup of their tumor. In addition, its cost-effectiveness is expected to remove another barrier in making precision oncology an ever more accessible option for patients and medical personnel.
About MGI
MGI Tech Singapore Pte, Ltd. is a wholly owned subsidiary of MGI Tech Co., Ltd., a Shenzhen-headquartered company committed to building core tools and technology to lead life science through intelligent innovation. Based on its proprietary technology, MGI focuses on research & development, production, and sales of sequencing instruments, reagents, and related products to support life science research, agriculture, precision medicine and healthcare. As of June 30, 2023, MGI has more than 2,800 employees, and 35.2% of whom are R&D personnel. Founded in 2016, MGI operates in more than 90 countries and regions, serving more than 2,400 customers. For more information, please visit the MGI website or connect on Twitter, LinkedIn or YouTube.
*Products are provided for Research Use Only. Not for use in diagnostic procedures (except as specifically noted)